Each year 16 students sign up for the Yale rainforest lab, which features a two-week expedition during spring break, followed by intensive research analyzing hundreds of samples brought back from the headwaters of the Amazon.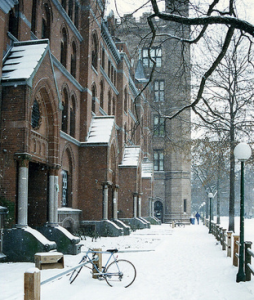 Something wild and warm
There's a yearly cold-weather ritual on the Yale campus. While New Haven is deep into winter, snow drifting along frozen sidewalks and up dorm stoops, indoors, hunched over laptops, Yale STEM students diligently schedule their upcoming spring breaks. Googling the Rainforest Expedition and Laboratory home page they see just the vaguely unsettling image of an empty trail, overrun by matted tropical ferns and foliage. Most spring thrill seekers stop right there, quickly backing away, and book a round trip to and from the optical white beaches and warm blue-green waters on St Bart's - it's Yale after all. A more adventuresome cohort follow the website's meandering trail and click through to the next page, discovering there's no lab manual.
Suddenly, they're way off the collegiate map. Are they prepared to pack an untested internal compass? Furthermore, every student must design and execute their own research project. Yale biochemistry professor Scott Strobel, who created the course, believes the best way to train great scientists is to give them control of their research and make it relevant. Then take them off the grid and into the unknown. A former student blogged:
...from the get-go this would be the coolest class any of us would ever take.
Reseachers gone into the wild
Warm weather inevitably triggers spring rituals, and while most other Yale students were wading in the surf or unwinding in sunny southwestern exurbs, the Rainforest Expedition embarked for Ecuador.
Traveling by jet to Quito, then bumping along rural roads by bus, and gliding downriver in dugout canoes, students finally arrived in the remote rainforests of Coca, Ecuador, to search for endophytes, fungi with the potential to change everything from medicine to biofuel. "It's not beyond the scope of possibility that every student will discover a new genus of fungi," said Strobel, who accompanied the students on the trip. By taking students to one of the most biodiverse rain forests in the world, he lets them unearth something new.

Where the wild fungi are
And if any student had thought remote up-river Ecuador would be a posh working-vacation, they should have read the course "travel supplies" page more carefully:
Passport
Inoculations and medicines
Personal first aid kit with Peptobismol, Imodium, and Tylenol
Personal prescriptions, motion sickness tablets, etc.
LED headlamp plus and Waterproof rain shell/poncho
Insect repellent, Sunscreen, Sunglasses and Hat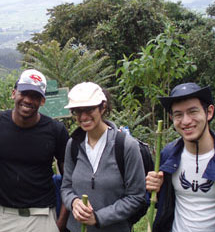 Possible pain. Discomfort. Swelling. A disclaimer on the 'travel supplies' page, "This is an incomplete list and will be updated at a later date," alerts due diligence and tells students to expect the painfully unexpected. Remarkable stories have also filtered back from previous expeditions - mudslides, a nearly severed thumb, poisonous snakes... Or they might get lucky like Pria Anand, who stumbled upon a fungus with an insatiable appetite (a micro-glutton) for polyurethane, the ubiquitous plastic found in modern products from Spanx to scrunchies (petrochemical junk food), which remain buried, nestled next to ageless Hostess Twinkies and other consumer marvels of the 20th century - all vying for landfill immortality. Take a short break and watch a Yale promo video, above, about Strobel's 2008 trip, which includes short snippets from two other field research projects.
Walking on the wild side
During the 2008 spring expedition, after cautiously swimming with piranhas, bird watching, perched high up on the forest canopy, and inspecting indigenous medicinal gardens, Anand headed deeper into the rainforest and into uncharted autoplay:0]territory.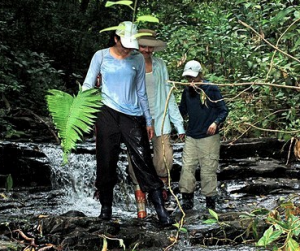 On collecting days, after the class split up, she trooped into new target areas and collected dozens of samples; ultimately, she'd wanted to find endophytes that could break down (binge on) plastics - bioremediation. If Anand had a question in the field, she could always rely on Scott or his father, Professor Gary Strobel, famous for searching remote places to find beneficial microbes - including his 1993 discovery of taxol. Scott's father was always easy to spot on the trail, wearing a red knit cap that unfurled to become a sample bag. Life off the map is hard, but Strobel, 70, muscular and fit, enjoyed leading the group during the long hikes, pointing out promising specimens along the way. In spite of a lifetime in the wild, he'd managed to escape serious illness - although he still carried scars from a painful chigger infestation.
Returning from the field each night, Anand confirmed her specimens with help from Stroble, father and son. After pressing samples for the collections at Yale and the Ecuadorian Museum of Natural Sciences, she prepared her own samples to analyze in the lab after returning to Yale. Our blogger explains Strobel's and the expedition's lasting influence:
Scott wielded a combination of brilliance and charm, along with his wicked stories of seemingly magical microbes living symbiotically in plant tissue...
Anand's wild bunch
After a battery of tests on the endophytes, Anand found that Pestalotiopsis microspora could degrade polyurethane. "Hopefully, it will be a useful tool in managing waste," Anand told Plastics News. She reported that the plastic, which was a milky-white liquid before she introduced the fungus, had vanished when she checked the Petri dish later.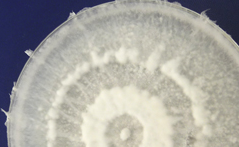 Soon after reporting her results, Anand left Yale for medical school. Her efforts laid the groundwork for Jonathan Russell, a 2011 Yale graduate, to build on her research. Russell examined the endophyte's digestive functions and found that it could grow on polyurethane as its only carbon source. He also discovered that it can grow anaerobically. "I went after the enzymes," said Russell.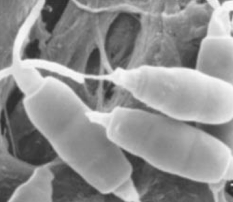 The Applied and Environmental Microbiology journal published the findings last September. In the future, Strobel said he wants to characterize the protein the fungus produces for bioremediation. "One of the students this year is targeting polystyrene," Strobel said. "Because of the nature of the polymer, that is a much more difficult challenge than polyurethane.