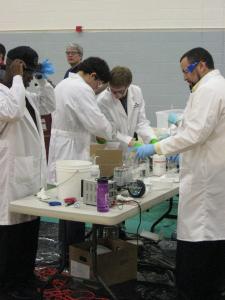 By: Luke Richardson
In the past the AIChE has sent YPAB representatives to Student Conferences to help the host chapters with any needs they may have, such as judging competitions, giving presentations, etc. This year, however, YPAB would like to increase the Young Professional presence at each regional conference. So, we are calling on the Local YP Sections to help with the Student Regional Conferences. Hosting a conference is no small task - it takes a lot of work, organization, and planning and all help is greatly appreciated. Below is the list of regional conference dates and host chapters:
Mid-America: March 30-31 at Washington University in St. Louis
Mid-Atlantic: April 13-15 at Stevens Institute of Technology
North Central: April 20-21 at University of Akron
Northeast: March 16-17 at University of New Haven
Pacific Northwest: April 27-29 at University of Idaho
Rocky Mountain: March 30-April 1 at South Dakota School of Mines
Southern: March 30-April 1 at Clemson University
Southwest: March 23-25 at University of Houston
Western: April 21 at University of Nevada, Reno
These groups have expressed a need for judges for the Research Paper Competitions, Research Poster Competitions, Chem-E-Car Competitions, and Chem-E-Car Poster Competitions. They have also expressed an interest in having Young Professionals give presentations and panel discussions. In the past students have enjoyed hearing about the workplace, how they will or will not use their education, ways to get involved in AIChE after graduation, and different career opportunities that are available after graduation. In additions to judges and presenters/panelists, YPAB is also looking to set up mock interviews and/or resume review workshops for the students at the conference. This is a great way not only to get more involved with AIChE but also to make a difference in the life, education, and careers of young engineers.
If you do have an interest in helping a host chapter in your area, please contact Luke Richardson (luke.richardson@arkema.com) and we will connect you to the host chapter and help work out any details.