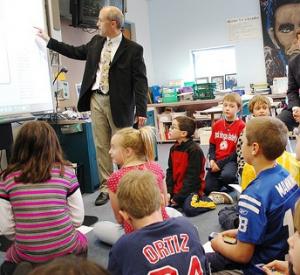 Friday afternoons at the Greer Elementary School Extended Day Enrichment Program (EDEP) are a time for the kindergarten through fifth grade students in this after-school program to play games and engage in other fun-filled activities. This is in contrast to the routine on Monday through Thursday afternoons, when the focus in on homework, tutoring, and other educational-support activities.
However, on one Friday in November of last year, the students at the Charlottesville, VA, school welcomed the Wahoo Wizards from the University of Virginia's Chemical Engineering Department. As described in a previous ChEnected post ("Wahoo Wizards: A University of Virginia Classroom Outreach Story"; November 16, 2011), the Wizards regularly visit elementary schools to perform hands-on science demonstrations and experiments with the students.
Ms. Rickey Groomes, the EDEP Site Facilitator at Greer, described the children's reaction to the Wizards as follows: "As the children rotated through the three exciting and engaging stations, they were enthralled with the all the various ways that science can be made interactive, interesting, and inviting. You were great ambassadors of science! We wish that every child in the Albemarle and Charlottesville area were given this fantastic opportunity. Not only did the children learn during this program, it had them hooked! They were discussing hypotheses without realizing it, using critical thinking skills, and engaging each other through the experiments. It was so rewarding to be a part of that experience! In a day and age when students in the United States are falling behind in math and science literacy, these programs are vital to inspire the scientists, engineers, and mathematicians of the future. We must engender the passion for learning and critical thinking at an early age, and you all are able to bolster that process in a unique and vibrant way."
Highlighting the creative ways in which the Wahoo Wizards make learning fun, Ms. Groomes said it best when she commented: "Even though the Wizards visit occurred on a day when the students are normally engaged in play, not one of our 40 students complained about missing their play time that day."