There has always been a roadblock in the way of algae's potential as an efficient biofuel: no economical method to harvest and remove the water. Until now. A team led by Will Zimmerman, a professor of chemical engineering at the University of Sheffield, England, has developed a low-cost microbubble technology that floats algae to the water's surface, making harvesting easier, and saving time and money.
The research was recently published in Biotechnology and Bioengineering (press release). Microbubbles are used by water purification companies to float out impurities, but the process hasn't been used for algae because previous methods have been too expensive. This new research builds on Zimmerman's previous work that used microbubbles to grow algae more densely to increase production. But this time, he's tweaked his methods, and the new system uses 1,000 times less energy.
"We thought we had solved the major barrier to biofuel companies processing algae to use as fuel when we used microbubbles to grow the algae more densely," professor Zimmerman said. "It turned out, however, that algae biofuels still couldn't be produced economically, because of the difficulty in harvesting and dewatering the algae. We had to develop a solution to this problem and once again, microbubbles provided a solution." While the next step is to develop a pilot plant to test microbubble harvesting on an industrial scale, Professor Zimmerman has already tested the earlier research at a nearby Tata Steel factory using CO2 from flue-gas to boost algae productivity. Watch the video above. The tests at the Tata Steel Works have been so successful that a plant will be built. Zimmerman believes the research has given Tata Steel an edge in an emerging biofuel market potentially worth $20 billion. He said, "We plan to continue this partnership to test the new system." Dr. Bruce Adderley, manager of climate change breakthrough technology at Tata, said, "Professor Zimmerman's microbubble-based technologies are exactly the kind of step-change innovations that we are seeking as a means to address our emissions in the longer term, and we are delighted to have the opportunity to extend our relationship with Will and his team in the next phase of this pioneering research." Zimmerman is also the author of two best selling texts on multiphysics modeling (Zimmerman's most recent text book). His Microbubble innovation won the 2010 AXA Insurance Cleantech Open UK ideas competition in 2010 and the Royal Society Innovation Award (Brian Mercer Fund).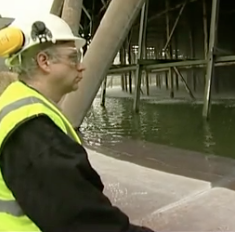 Do you think this has truly solved the greatest barrier to algae biofuels?
Photo: Will Zimmerman, University of Sheffield; algae, Steve Jurvetson via Flickr; Steel mill and Zimmerman, The Royal Society via YouTube