Located in the heart of the revitalized oil-rich Permian Basin, just five miles from west Texas, dusty and dry Hobbs, New Mexico, has always been considered the "Oil Capitol of New Mexico." It became a boom town in 1928 after it's first 700 barrel a day gusher. Having survived several boom-and-bust cycles over the years, Hobbs is busy again, attracting huge companies like Chesapeake Energy as they play out recent shale oil and gas discoveries.
The first post-biomass technology build-out
But all of this new activity obscures another energy boom just over the horizon. Joule Unlimited, a startup based in Bedford, Massachusetts, has recently received $70 million in funding to commercialize new technology that uses modified cyanobacteria that, while housed in a bioreactor known as a SolarConverter, uses solar energy to produce ethanol or other fuels in a continuous single-step process using waste carbon dioxide, gray water, and nutrients. (watch demo video) The company wants to prove earlier claims that its bacteria can produce ethanol for as little as $1.23 a gallon or diesel fuel for $1.19 a gallon, less than half the current cost of both fossil fuels and existing biofuels.
Last February, according to Oilprice.com: the potential of the company's production process was supported with the publication of a detailed analysis... Published by Photosynthesis Research (see paper), the peer-reviewed article examines the company's advantages of producing renewable fuel and chemical production with yields up to 50 times greater than the maximum potential of any process requiring biomass.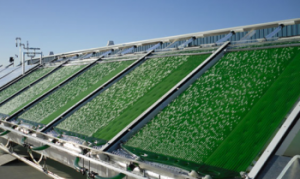 According to Joule, this could be a huge breakthrough in energy independence. "If we're half right, this revolutionizes the world's largest industry, which is the oil and gas industry. And if we're right, there's no reason why this technology can't change the world," exuded Joule's chief executive Bill Sims.
Rapid growth in the foreseeable future
While the company has only been around since 2007, it has already doubled its employees and moved into much larger corporate offices. Joule will spend their latest $70 million in Hobbs, building out the first post-biomass technology scheduled to reach commercial scale, which should begin production this summer. The facility in New Mexico will be of a five-acre "module" made up of multiple 100-meter-long rows of SolarConverters connected to a central processing plant that collects and separates the fuel. The facility is located near three natural-gas power plants,which will provide carbon dioxide. Joule has leased a total of 1,200 acres and plans to add additional five-acre modules over time, producing up to 25 million gallons at full commercial scale.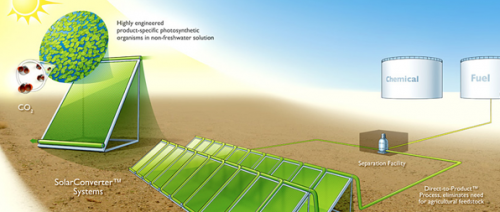 New jobs on the company website
According to Biofuels Digest: The goal of the demonstration is to show the "ease with which Joule's process can scale from hundreds to thousands of acres." Proceeds from the latest investment round will also support Joule's global expansion plans and on-going technology development. As the company gears up, they've put several engineering job postings on their website. You can hear a short talk from co-founder of Joule Unlimited above. Are you familiar with Joule Unlimited, and will it be a success?