Just last summer, over 12,000 SunPower solar cells onboard the Solar Impulse craft allowed it to fly for 26 consecutive hours on solar energy alone, a first in aviation history. Now, SunPower, one of Silicon Valley's most successful solar cell manufacturers, has been selected to power the next Solar Impulse flight with its world-record, high-efficiency solar cells.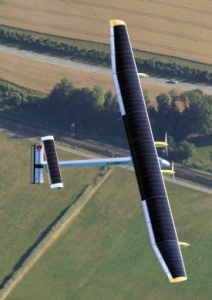 The latest incarnation of the Solar Impulse, which is currently under construction, will require 22,000 SunPower solar cells, each of which will provide power with a record 22.7 percent efficiency that will allow the craft to successfully circumnavigate the globe in 2014. The thin 135 micron solar cells will also maximize the craft's restrictive power-to-weight ratio, helping the engines shunt excess energy into lithium battery storage for night flight. "SunPower is pleased to be involved with such an ambitious project," said SunPower CEO Tom Werner in a press release. SunPower has a legacy of powering cutting-edge solar projects.
In 1993, SunPower's solar cells powered the Honda car to win the World Solar Challenge from Darwin to Adelaide in Australia a full day ahead of the second place finisher. The company also worked with NASA to develop the unmanned Helios solar plane that flew to a record altitude of 96,863 feet. To see the the elegance of the Solar Impulse, watch this short documentary.
Warren Buffett buys big into solar
Famous investor Warren Buffett has until recently had a reputation for avoiding high tech companies. He sat out the massive dot.com bubble while holding onto traditional stocks like See's Candies, Gillette, and Coke. He mischievously said that he couldn't invest in companies he didn't understand. Later, after the debacle, he plunged into low tech infrastructure stocks--railroads and natural gas pipelines. But now, he's gone high tech and just made a big investment in solar energy. Reuters reports:
Warren Buffett's MidAmerican Energy Holdings utility paid $2 billion for the Topaz Solar Farm project in southern California. Moving into solar as the industry undergoes a massive shakeout triggered by oversupply around the world, Buffett smelled blood in the water, patiently circled, and finally struck--without any pricey indigestion--and burnished his reputation as the world's most successful value investor. (Read company press release). His investment isn't just an alt-energy appetizer, a mere bonbon. The solar farm will be one of the world's largest photovoltaic power plants. The project's 550-megawatt capacity is equal to about half a new nuclear reactor, which is enough power to run 160,000 homes. First Solar, which agreed to build, operate, and maintain the Topaz project, began construction last November. Buffett's Iowa-based utility, which had already moved into clean energy by buying more than a dozen US wind farms, made the deal a day after First Solar failed to get a government loan guarantee for its California project. The terms of the deal were not disclosed, but First Solar's difficulties probably assure that Buffett did well. Also, like California-based SunPower, purchased and protected by deep-pocketed French oil major Total, the deal makes it easier for First Solar to sell new projects.
Apple's massive roof-top solar installation
Apple is moving off the energy grid, relegating it to mere backup status. The primary issues: cost and reliability. Treehugger reports that Apple just presented its revised plans to the city of Cupertino for a new circular, corporate campus. Not only will it be the future home to more than 13,000 employees, it will also include one of the largest rooftop solar installations in the United States. Given the size of the elegantly curved, glass-walled building, the new plan will include 500,000 square feet of roof space covered with solar panels, allowing the new building to generate around 5MW of solar power. When the late Steve Jobs (video above)  explained the original project to the Cupertino City Council, he said the building's main energy source would be natural gas. (Which probably meant Bloom Boxes, Silicon Valley's fuel cell du jour.) Solar wasn't mentioned. The city's electrical grid would be an emergency backup. So the newly announced rooftop solar installation, despite its vast size, is just one of the building's energy sources.
New Study: Grid parity becoming a reality
Apple's new headquarters, Warren Buffet's energy bet, and the Solar Impulse are part of the trend of increasing solar power efficiency and global adoption. This has rapidly driven down prices. And a new study--A review of solar photovoltaic levelized cost of electricity, from Canada's Queen's University (press release)--digs even deeper to find:
...it is clear that PV has already obtained grid parity in specific locations and as installed costs continue to decline...
According to Greentechsolar, for the study, the authors reviewed every residential and small/medium PV solar system LCOE [calculation] and concluded:
...as installed costs continue to decline, grid electricity prices continue to escalate, and industry experience increases, PV will become an increasingly economically advantageous source of electricity over expanding geographical regions.
That's great news, but reaching grid parity this quickly--years ahead of many best-case-scenarios--means every solar manufacturer is nervously riding a powerful trend. Just a few years ago, American companies like Hemlock Semiconductor Group, with the world's largest production capacity, spent billions to ramp up production, but now polysilicon prices are dropping off a cliff and wiping out companies, not just in the US, where everyone's gawked a the smoking wreckage of Evergreen and Solyndra, but around the world.
Clearly, when Chinese polysilicon producers, which use coal-based thermal energy to generate the high temperatures needed to create polysilicon, accuse hydro-energy based US manufacturers of dumping their product in China, a serious trend is taking shape. Then the problem cascades as US solar panel makers accuse the Chinese of dumping below-market solar panels in the US. When US politicians cry about a bloodbath, they're usually ignoring the large number of Chinese second-tier companies that are getting left behind. It's predicted that the total number of Chinese polysilicon producers could fall to as little as four over the next three years, down from 35 today. There will be some obvious winners: Suntech Power, the world's largest solar cell maker by capacity, forecasts that China could become the largest solar market by 2015, overtaking Germany, Chief Executive and Chairman Zhengrong Shi told China Daily. Whether it's polysilicon or solar cells, prices are way down, and on top of that, technology has started to extended solar system life. The inevitable result: The price of solar energy-generated electricity, calculated by a legitimate levelized cost of energy (LCOE) method, is now competitive in many regions with the price of electricity generated by conventional sources. The Queen's University study's biggest surprise, said co-author Joshua Pearce, materials science and mechanical engineering professor at Queen's University and Michigan Technical University, was how much outdated information and misinformation there is about the price of residential and small/medium system solar energy. "We have reached a tipping point," he said. "Solar has gone past grid parity." Based on the study's LCOE calculations, "It is still a common misconception that solar PV technology has a short life and is therefore extremely expensive." However, he continued, "Depending on the location, the cost of solar PV has already dropped below that of conventional sources." Dr. Pearce has also created a calculator program available for download online that can be used to determine the true costs of solar energy.
Photo: Current Apple HQ, site plans, City of Cupertino website Photo: Solar Impulse, Solar Impulse website Photo: Warren Buffett, Mark Hirschey, wikipedia Photo: Warren Buffett, secretagent007, Flickr Photo: Polysilicon, Hemlock Semiconductor website