Tired of your desk job? Tedious PowerPoint presentations wasting your time? Become an entrepreneur by joining the world's novelty-gift supply chain--but don't open a factory in Bangladesh. Makerbot industries brings the factory to you. And later, while frantic eBay bidders fight over your unlimited-edition creations, sit back and watch your retirement nest egg grow.
MakerBot Thing-O-Matic Kit
Want to get into 3D printing but don't know where to start? The MakerBot Thing-O-Matic Kit is the way. It comes complete, so you don't need additional parts. And it only takes about 20 (Ikea hours) to build before you start printing. Any trouble? Just read to the bottom of every build step. Later, improve the Bot's accuracy by fine-tuning and calibrating the ReplicatorG software.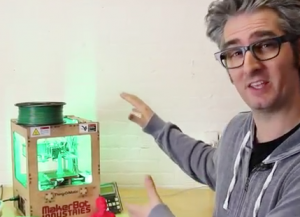 Go to the Makerbot blog for ideas--from the practical to the bizarre. If problems pop up, a large user community has your back (especially Thingiverse, a treasure trove of open source designs). There's also a MakerBot YouTube Channel, with a demo, video above, by co-founder Bre Pettis. Cost: Kit $1,099.00. Fully-assembled: $2,400.00. (MakerBot industries website). Ships with a 4 to 5 week lead time--so, there's no express shipping and no Xmas morning extruding.
Bamboo bikes--nature's favorite ride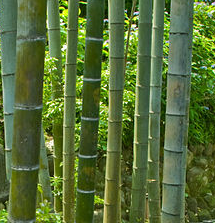 Bamboo is one of the world's fastest-growing plants. That rapid growth rate, coupled with a strength-to-weight ratio similar to steel, explains why it's beloved by besotted bikers and environ-cyclists as a durable material with a low carbon footprint. A veritable zen wheelie powered by man-made mojo and motility. Bamboo bicycle startups are rapidly expanding to keep up with early-adopter demand: Including Boo Bicycles in Fort Collins, CO; Renovo Design out of Portland, Ore.; Panda Bicycles, in Fort Collins, Colo.; and Organic Bikes in Wisconsin. Another bamboo bike pioneer, Calfee Design, of Santa Cruz, Calif., spends more than 40 hours to build each bamboo frame, which has been smoked and heat treated to prevent splitting.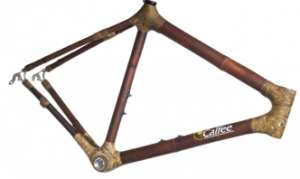 The mitered tubes, bound by epoxy-soaked hemp fiber, create a frame whose most notable characteristic--besides major curb appeal and vegan-magnet status--is its well-reviewed vibration dampening. Finally, all frames are finished with a satin polyurethane vapor seal so owners can maintain them like any metal or carbon frame. Mountain Flyer Magazine reviewed the Bamboo Adventure (watch a short video).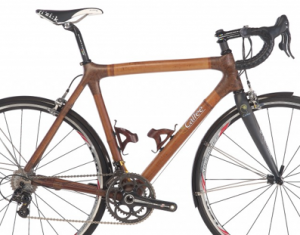 ...A little heavier than a similar carbon bike, the Bamboo Adventure comes in at 19.8 pounds. On gravel and dirt roads, the bamboo bike excelled. Dampening characteristics, based on the varied tube thickness of the bamboo stalks, kept the bike smooth and stable on bumpy Forest Service roads. Wider 28c tires made the it a versatile all-around bike...It rides like a dream. Calfee has hit a home run with the application of bamboo on this high-end, adventure touring road bike.
Cost: Frame $2995.00 Complete $4994.00
Oscium's IMSO-104 turns your iPad into an oscilloscope
You're at home DIY-ing, and all that pricey lab equipment at work is idling in a darkened lab. At some point--usually very late, coffee already bitter and cold--you need an oscilloscope to look at the signals on the lines or voltage change over time--not a simple digital voltmeter snapshot.
This isn't Miller-Time but a frustrating DIWork-stoppage. Well, now Oscium and their iMSO-104 oscilloscope can help with a very small module that plugs into your iOS device and then handles all the heavy-duty display work. Although the transformed iPad doesn't compare to high-end models in sampling and bandwidth, or extremely high-speed, GHz-frequency signal applications, Wired Magazine has a rave review:
I really didn't mean to write such a glowing review, but I have to say that I am very impressed with this scope. So what were some of the things that I was looking for? First, a simple and navigable interface. Check. The scope plots zoom just as you would expect with the common iOS finger pinches and spreads. The traces are easy to drag up and down as you would expect, as are the measurement cursors. The Oscium scope can also do all of those things you would expect from any scope: triggering, running measurements, the ability to freeze the display, screen shot, data capture, e-mail, and configuration saving. The unit supports a single analog probe and four digital probes, all included in the kit. You can run all five inputs at one time or select any combination to show. (Watch a short demo video.)
Download iMSO in the App Store and test drive the interface for free. The Oscium iMSO-104 is available directly from the Oscium website as well as a few other retailers such as ThinkGeek for $299.99.
Water-powered jetpack coming this spring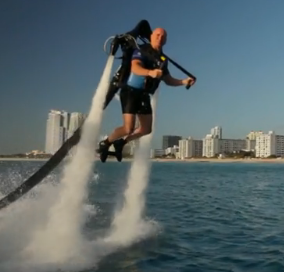 Using a massive hose, Jetlev's R200 jetpack--strapped to the back of a pilot--sucks up water and pumps out two powerful bursts. Creating sudden and swift lift-off. According to the Daily Mail, via the Huffington Post, users (with steep learning curves) can do a number of tricks while avoiding crippling disaster: figure-eights and walking on water. For the insatiably demented Ironman or Jesus wanna-bes, the device achieves a height of about 30 feet and weighs only 30 pounds. (Watch a promo video.) Interested? You'll have to put it on layaway. Florida-based Jetlev has announced that it will be available for purchase in the spring of 2012 for a suggested retail price of $99,500. The company's website confirmed the pricing. Scared by the steep price but unworried by the astronomical hospital bills, the company will rent the Jetlev R200 in Arizona, Nevada, Hawaii and Florida, according to theDaily Mail.
T-shirt stocking stuffer
Obama hasn't quite delivered the change he told us we could believe in--at least certainly not on the rushed timeline of 24/7 cable news. TV pundits will tell that to anyone willing to tune in and listen. But let's defer to a higher authority, scientific punditry: Charles Darwin had a completely different time frame. And you can show your support by wearing his T-shirt.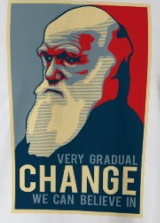 He'd want everyone to just expect very gradual change we can believe in and certainly can't avoid, suggesting that we need a little perspective. And if you look far enough out into the future, we're always undergoing adaptive change--whether we recognize it or not--whether it's Democratic, Republican, or Chaos-centric or not. I guess that's why you don't see many historians on television--it's not their niche. They're not part of the consumer biome. Cost: $18.95-- zazzle website