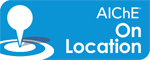 As part of support activities for students and young professionals, the Metro New York local section organized a Career Day on November 1, 2011. It took place in tandem with AIChE's Northeast Regional Conference at the Chem Show.
Keynote speaker, Anthony Fasano spoke on the major elements involved in creating an extraordinary engineering career.
Anthony spoke on the need for students to set career goals for themselves, and obtain more credentials, especially by enrolling for both the Fundamentals of Engineering and Principles and Practice in Engineering exams in order to be set apart from the crowd.
He further emphasized the need for Engineers to network actively by belonging to Professional societies as well as social media alternatives. He explained that life is about relationships and that building relationships is key to career success.
Also at the event, Lauren Deitch of the AIChE headquarters, Rachel Friedman of Con Edison and Daniel Lepek who is a Professor at the Cooper Union presented themselves to the audience, describing the pleasure and pains they had to go through before becoming the successes that they are, presently.
Highlight of the event was the presentation of $500 gifts from the Chair of the AIChE (NY metro section) to each of the student bodies of the association from CCNY, Columbia University, The Cooper Union, Manhattan College, Stony Brook University, Polytechnic Institute of NYU and United States Military Academy.
Related articles