AIChE was not the only organization holding an Annual Meeting in Minneapolis this past week (though the scale of AIChE's Annual Meeting is unparalleled!).
On Wednesday, October 19, the US Green Building Council's (USGBC) Minnesota Chapter (USGBC-MN) held its own Annual Meeting designed to celebrate the previous year's accomplishments and kick-off the


calendar for 2012. The evening featured exhibits by local green businesses, engineering firms and architectural solutions providers. The meeting also offered a silent auction, an iPad door prize, plenty of networking opportunities and a keynote presentation. I was invited to this special occasion by the chair of the USGBC-MN Emerging Professionals committee, Brian Granquist, a project manager at Target.
One exhibiting company at the USGBC-MN Annual Meeting was Sustology. The company offers analytic support for studies on energy use and production, green infrastructure, sustainable development and policy and market analysis. One of the exciting projects Sustology worked on as featured at the event included a study on floating islands developed by Midwest Floating Island.
These islands are made from a proprietary matrix of 100% recycled plastic and injected with inert polyurethane foam for buoyancy. These islands can support vegetation above the waterline as well as foster beneficial microbial habitat below the waterline. Minnesota Public Radio presented a series on new, innovative water-treatment technologies in September 2011, which included coverage of these floating islands. These islands--also known as "floating wetlands"--were deployed on Spring Lake in the Lowry Hill neighborhood of Minneapolis in August 2011 to restore the lake's ecology.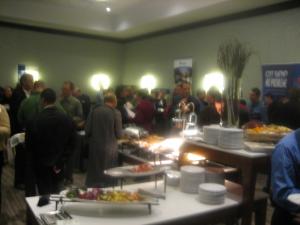 The evening's keynote speaker was Richard T. Murphy, Jr., President and CEO of Murphy Warehouse, a logistics company based out of Minneapolis. Richard is the fourth-generation Murphy to run his family business, and he presented a compelling and fascinating case for greening his business. His main points were that his family is invested in their business "for the long haul," and -- as a landscape architect by training -- he recognized the importance of long-term savings by sustaining and, in fact, renewing his properties' ecologies.
There's no shortage of innovative projects Richard has pursued -- from installing solar panels on his warehouse roofs (which experienced minimal damage from a tornado that hit northern Minneapolis in May 2011) to growing prairie land on his warehouse lots. Richard's storm water management practices on-site, for instance, will save the company $68,000 per year, allowing Murphy Warehouse to earn back the original investment within only eight years.
Participating in another "annual meeting" was tremendous fun and very inspiring. I was allowed more insight on yet another aspect of green building in our communities! Stay tuned for more installments on sustainable design -- and how chemical engineers can contribute to this important field!
If you attended the Annual Meeting, did you participate in other local events to explore our host city?
Related articles