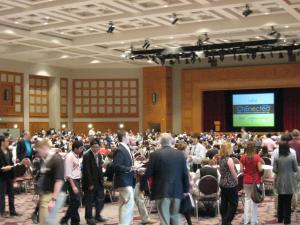 The Young Professionals have a unique opportunity within AIChE to serve as an interface between the student groups and Professionals, Fellows and Professors. The number of professional members under 35 within AIChE that attend conferences is healthy, but our YPs are spread out in the local sections, providing a big hurdle for communication. One of the ways that YPAB helps to overcome this hurdle is through monthly conference calls as well as through in-person meetings during conferences with any YPAB leadership that is able to attend. At the Annual Conference this year, YPAB members spent the Friday afternoon before the conference discussing current initiatives and how they can be improved as well as reviewing the status of the planning for the 2012 Spring Meeting YP events and sessions.
One of the objectives for the YPAB is to engage the Young Professionals within AIChE. YPAB does this through a variety of initiatives including both student and young professional programming at conferences. The Annual conference this year was no different with a number of YPAB sponsored student sessions as well as a Young Professional Social on Monday night.
A major objective of the Young Professionals is to engage students, engage students, engage students! At the Annual Meeting the Young Professionals provided technical and professional development sessions for students as well as a networking brunch and sponsorship of the student poster competition. Many members of the YPAB spoke to students in sessions like "Saving from the Start: Getting the Most Out of Your Money," "Graduate School: Is It Right for You?" and "The Growing Field of Water Treatment." Students also hosted their own sessions for idea sharing with other students like "K-12 Outreach," "ChE Student Experiences with Engineers without Borders-USA," and "Fundraising Without Large Companies."
The ChemE Car competition was riveting with the very animated University of Puerto Rico, Mayaguez, taking first place followed closely by University of California, Davis, and Missouri S&T. Students and YPs alike also enjoyed the musings of a ChemE comedian as well as the final round of ChemE Jeopardy along with the students.
For future Student Regional Conferences, the YPAB would like to recruit the local professional sections, particularly their YP members, to take a more active role in the conference, such as helping with professional development sessions. In the coming year, the YPAB would like to deliver more value to AIChE and to its student members by improving integration with the student members on both the local and national levels. The greatest challenge, and greatest opportunity, is finding a way not only to engage students, but to keep them engaged and bring them into the Professional Society as YP members.