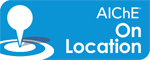 It's time to acknowledge notable achievements of chemical engineering students during 2010. There are a variety of accolades presented at this ceremony including awards, scholarships, and competition winners. They include:
National Student Design Competition
Sponsored by AIChE and Omega Chi Epsilon
The first-place winners in the individual and team categories will present their winning designs for Gas to Liquids (GTL), in a session on Monday morning, October 17.
Individual Category
1st Place
Nathan W. Hanna
Michigan State University
Honorable Mention
Nathaniel Cy McIntee-Chmielewski
Michigan State University
Team Category
1st Place - William A. Cunningham Award
Justin Williamson, Derek A. Needham & James R. Wright
Mississippi State University
Honorable Mention
Brittany J. Quigley, Jonathan D. Jones & David Quigley
University of Mississippi
Eric Casey, Andrew S. Estess & Rebecca D. Atkinson
Mississippi State University
2011 T-shirt Design Contest
This year's winning student conference T-shirt design was created by Victoria Baldwin, Stevens Institute of Technology.
This top design received 401 votes. Here's what Victoria had to say about the design:
This T-shirt design couples originality with a variety of important aspects of both chemistry and chemical engineering.

Though the central design reads "AIChE," the letters are rooted in five basic laboratory tools and compounds that come together heralding the attendees of the AIChE National Conference!

I hope you all really enjoy my design and thanks so much for your votes!
John J. McKetta Undergraduate Scholarship
Sponsored by the Dekker Foundation
Awarded for the ninth year in 2011, this scholarship, named in honor of Professor Emeritus John J. McKetta, recognizes a chemical engineering undergraduate who is planning a career in the chemical engineering process industries.
The recipient is Peter Ries of Northeastern University

Engineers Without Borders Grant Award
The 2011 recipients of AIChE's Engineers Without Borders grant is supported by the Societal Impact Operating Council.
Kelly Barb, Rowan University
Matthew Conway, University of Maryland, College Park
Slideshow: AIChE Student Award Ceremony