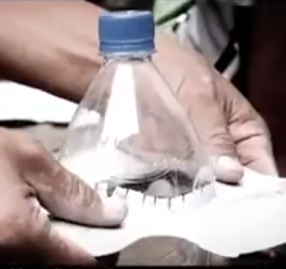 Most of us take lighting for granted, flicking the switch on and off as many times as we please, or leaving it on long hours and wasting energy. However, this isn't the case for many poverty stricken place around the world where people can't even afford to light their own homes.
Demi (aka Solar Demi), who comes from a very small village (San Vicente) in the Philippines, came up with a solution to bring light to his village.
His invention, the solar bottle light bulb, is an alternative source of light powered by the sun. It is inexpensive, made from recyclable materials, easy to assemble, and can provide light equivalent to a 55-Watt bulb. You can see his invention in the video panel at right.
Recipe for the Solar Bottle Light Bulb
1.) Fill the 1.5 liter clear soda bottle with filtered water, then add 3 tablespoons of liquid bleach and tightly seal the cap.
2.) Cut a hole the size of the bottle's circumference in the roof sheet material and place the bottom part of the bottle leaving it exposed under the sunlight.
3.) Make hole on the roof of the house to firmly fix the solar bottle light bulb in place.
4.) Seal the roof with sealant to prevent any rainfall from entering the house. Light is produced when the water inside the bottle bulb refracts and spreads the light inside the house.
So far 643 solar bottle light bulbs have been installed and the goal is to reach a million in 2012. You can help their efforts by donating here.
What do you think of this amazing invention?
Photo: Isang Litrong Liwanag