Towering solar umbrellas designed by LAVA, the Laboratory for Visionary Architecture, will be the crowning feature of the central square in the sustainable Masdar City. The carbon neutral city, which is located near Abu Dhabi several miles off the northern coast of the United Arab Emirates, is slowly taking shape and is scheduled for completion in 2016.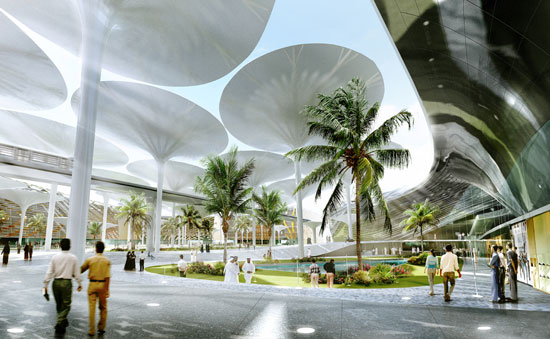 The solar umbrellas are designed to shade the central share during the day while capturing sunlight. In the evening, the umbrellas fold and release stored heat. Inspired by sunflowers, the umbrellas follow the direction of the sun, just as sunflowers do, and were conceived to be suitable for multiple desert environments where days are hot and evenings are cool.
We'll be keeping an eye on Masdar City and will report back with new developments progress as the city takes shape. For more about Masdar City, see the article in the New York Times. For more architectural renderings of the solar umbrellas, see this article.