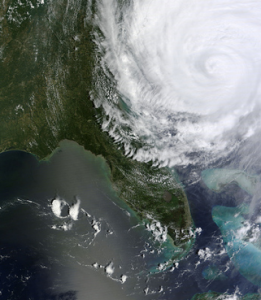 NASA has just released several new photos of Hurricane Irene, which is bearing down on the East Coast of the United States and causing concern as far away as New York City and New England. Residents in lower Manhattan have already been warned that they may have to evacuate this weekend.
Irene has become a major hurricane, and NASA satellite data shows its diameter is now about 510 miles. According to NASA, Irene is now almost one-third the Size of the East Coast. Hurricane watches are in effect for much of the East Coast.
Here is a link to NASA's Flickr photo stream.
Here is a link to HD video from August 26.

Images: NASA, Flicker