France's Total SA, which is headquatered in Paris, is known primarily for oil and gas production, but after its acquisition (press release) of US-based SunPower for $1.3 billion, it now ranks as the number-one solar energy provider among the world's big oil firms. Although SunPower's profits will provide only a small contribution to Total's bottom line (short fact sheet), it's a thought-provoking transition; it also helps transform France, known primarily for nuclear power, into a rising solar power-broker.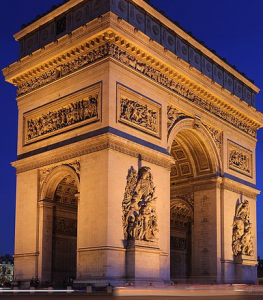 The world is changing rapidly. Total and the other big energy players are now placing their bets on the future, and it could be a thirty-year wait before the final winners and losers emerge. Total (corporate report) knows that it's moving into an industry challenged by low-cost Chinese manufacturers. In spite of the fact that SunPower (short video-history) has already been relentlessly attacked by competitors cutting their solar module prices, Total promises to help SunPower--already the largest solar panel and systems company in the United States--invest heavily enough in R&D to develop a vast global reach.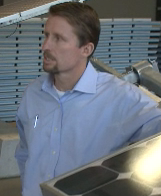 Tom Werner, SunPower CEO
Today marks a new stride-forward for Total in the solar power industry," Total's president, Philippe Boisseau, said in the press release. "To ensure the long-term viability of solar energy, the marketplace requires global integrated industrial players that are financially stable and committed to advancing cutting-edge technology. SunPower will be the centrepiece of the solar activities of Total." "By combining our complementary strengths, SunPower and Total will change the way the world is powered." said Tom Werner, SunPower president and CEO.
Total helps SunPower avoid solar tech's frustrating search for financing
Total, which had been scouring the solar market for two years looking for a partner, knew it was getting a world-class technology company. In fact, Cleantechnica recently wrote that SunPower the clear solar leader in the U.S. The solar-power firm was also recently awarded the Guinness Book of World Records Award for providing "the most efficient commercially available photovoltaic modules on the market." The solar cells have an efficiency of 22.4% and are the first commercially available PV modules to achieve a solar cell efficiency of over 20%. Here is company promo about their record-breaking E20 solar panel, above.
The Total deal comes at a critical time for SunPower. Demand for solar power is falling in Europe because of government cuts to subsidies. In Italy, the world's number-two solar market, a recent government decision to limit development of large solar farms has forced SunPower to wind down its utility-scale systems business there and focus on the country's commercial and residential solar markets.
A $1 billion line of credit
Financing has become an important tool of survival for solar companies. Having Total as a potential financier will also help SunPower avoid the frustrating search for project-by-project venture capital. Usually, if a solar technology company has matured beyond early-round financing, it has found it difficult to find investments large enough for a successful buildout. (In fact, one analyst had recently worried that the Chinese might easily take over the the US solar industry by financing most large projects.) Reuters wrote: "It is in these later rounds that the industry is increasingly seeing big corporations step in, as venture capital firms simply don't have the resources to fund the large-scale manufacturing needed to commercialize a nascent solar technology." Total, which may have one of the best track records for project development, will provide a $1 billion line of credit. This will give SunPower a big advantage over other large competitors.
A new trend in green technology
greentech media observed: "Total also represents one of the more unusual and unexpected trends in green technology: the rise of France." Schneider Electric has bought five companies in recent months to expand its portfolio in building management and power delivery. Saint-Gobain, mirror maker to Louis XIV, invested $80 million into smart window maker Sage Electrochromics. Areva, the French nuclear giant, bought solar thermal company Ausra last year. Veolia, also from France, has begun to invest in and partner with water startups. Recently, French power equipment maker Alstom became the second-largest shareholder in BrightSource. The company has put $130 million into the Oakland, California-based startup. The two also have a partnership to work together on solar thermal power plants in the Mediterranean and Africa. Marketwatch added: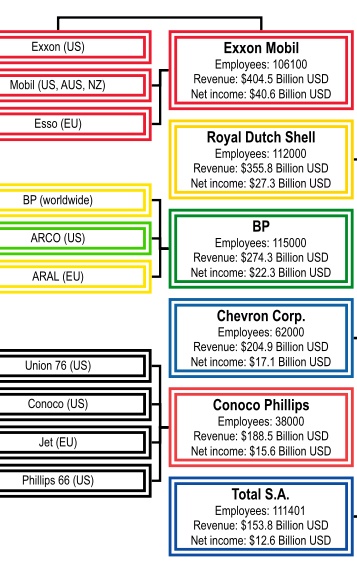 Company size as of 2008
Meanwhile, Royal Dutch Shell has cut its exposure to solar in favor of a biofuel alliance with Cosan and a move into wind.
Exxon Mobil has invested in advanced biofuel from algae, but has not made any major moves into solar. Chevron Corp. has invested in renewable energy projects and also runs Chevron Energy Solutions, an installer of solar energy systems for educational institutions. BP Solar bills itself as a leading solar power company providing solar energy products to the residential, commercial, industrial and utility sectors.
Photos: solar panels, Tom Werner, SunPower screengrab Photo: Arc de Triomphe- Benh LIEU SONG, wikicommons Graphic: Oil majors-- Boereck, wikicommons