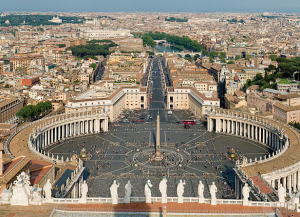 The Vatican has contracted German luxury carmaker Mercedes-Benz, long-time supplier of stately Papal limos, to build the first-ever hybrid popemobile, according to business magazine Wirtschaftswoche. Citing anonymous sources linked with the top-secret project, the magazine reported that the vehicle, based on the Mercedes-Benz M Class, would come with a lithium-ion battery pack, a 60 horsepower electric motor and a V-6 gas engine, pimping out the popemobile under the hood and updating an iconic vehicle that was first used in the 1980s by celebrity-saint, Pope John Paul II.
When Pope Benedict enters the new hybrid through a rear door, he will be hydraulically lifted on his elevated chair into the glass bubble, allowing him to be more easily seen and keeping tradition alive in a much smaller carbon footprint.
Concern for Pope's security doomed an all-electric vehicle
Why didn't the Vatican pick a pure electric-vehicle? After all, Catholics affectionately call Pope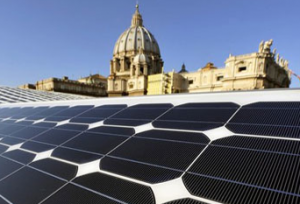 Benedict the "Green Pope" after he retro-fitted the Vatican roof with 2400 solar panels in 2008, and began an ongoing $600 million solar construction project that will transform the Vatican into the first solar powered, mini-nation state when it's completed in 2014.
Trendy, younger, brand-aware Vatican prelates probably whispered, "Tesla" in the pontiff's ear while walking from Vespers to their Vespas. Or "What would Jesus drive?" But concern for the Pope's safety is the obvious reason they nixed an electric popemobile. It's a five ton beast, and the Vatican probably doesn't think an all-electric vehicle could accelerate fast enough to get His Holiness out of a security jam, whether a fan crowd-crush or Uzi-spraying assassins.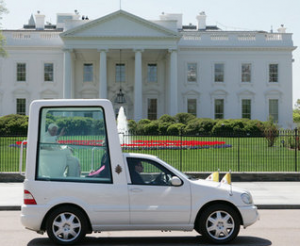 Although the heavily armored hybrid will gain even more weight with its new battery pack, much of its bulk can be blamed on safety features: VIPs can only dream of 3-inch composite plastic-glass windows able to withstand heavy explosions; or roadside IEDS, a 1/2-inch protective steel plate running under the entire length of the floorboard; Kevlar body panels; cabin air filters and an oxygen supply to protect against chemical or biological attack. And don't overlook the special reinforced tires that can run up to 70 mph while flat. There is probably only one other contemporary religious figure that would feel comfortable riding inside this slowly rolling tribute--Oprah. She's regal. She gives great papal wave.
When Pope Benedict XVI heads back home to Germany this September, he will drive the new hybrid off the lot with that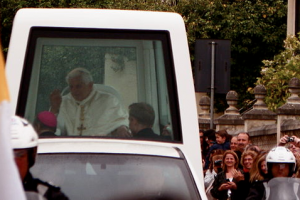 ethereal, new popemobile smell. On the practical side, the electric motor will allow the Pope to go 30 kilometers (about 18.5 miles) purely on battery power after a one-hour plug-in charge.
As Pope Benedict waves from behind the hybrid's explosion-proof glass, few people in the crowd will know that the Vatican's most noted environmental announcement was made in 2008 when the cardinal vices were updated by stating that Catholics "offend God not only by stealing, taking the Lord's name in vain or coveting your neighbor's wife, but also by wrecking the environment."
Photo: pope in bubble- Super91, Wikicommons
Photo:
St. peter's Square

- Diliff, Wikicommons
Photo:

Solar panels on Vatican roof

-- Catholic Press Photo
Photo:

popemobile and White House

-- Chris Greenburg,Wikicommons
Photo:

Popemobile and crowd

- Caiodovalle, Wikicommons