Recently, Fast Company noted that Google had made several large, flashy, renewable energy investments: a $168 million investment in California's Ivanpah solar farm and a $100 million investment in the world's biggest wind farm. Surprisingly, Google's largest and most recent renewable energy investment falls much closer to home--or on the home. It creates a $280 million fund to finance SolarCity's rooftop, residential solar projects, giving them a cash-infused jolt. SolarCity, partially owned by Tesla's Elon Musk, is the largest solar leasing company in the US. They're already starting to get economies of scale. But its main advantage over other leasing companies: they don't subcontract various parts of the process--particularly installation. SolarCity takes care of everything: design, monitoring, financing, installation, and support. Once the work is done, all the homeowner has to do is flip the switch. The following promotional video, above, explains the process.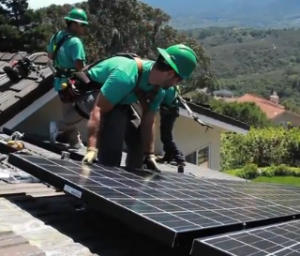 There are no upfront coats
The biggest draw: no upfront costs. Once the work is done, homeowners simply pay a monthly fee while SolarCity takes care of the maintenance and repairs for the length of the lease. This effortlessly eliminates rooftop solar's final barrier: expensive installation costs that can run as high as $10,000. This is the end of solar-power-sticker-shock. Customers know that, in the future, they'll pay a reliable rate for their energy, even as the power company's electricity costs rise. While Google's other wind and solar investments are tied to the grid, this alliance promotes the benefits of distributed energy. "...putting generation where people use it avoids energy that would be lost in transmission. Customers are able to lower their bills and earn a return back from the upfront investment," explains Rick Needham, Google's Director of Green Business Operations.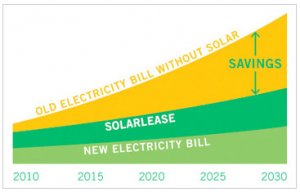 Enabling thousands more roof-top installations
SolarCity will immediately benefit from the cash injection. Google's fund will allow the company to install between 7,000 and 9,000 new rooftop systems. SolarCity's business model will get traction because of the following features:
No upfront fee;
Lease payments are made over 15 years, lending a sense of security;
Lower utility bills are a big draw;
With increased efficiency, SolarCity can sell more and more excess power to the grid. As solar panel prices drop, profits will increase.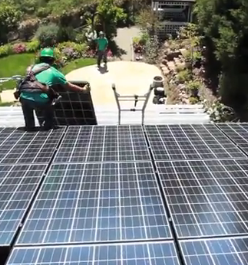 Cleverly, these financing deals are also being securitized and packaged for investors. This will free up cash for even more installations. Google's cash and SolarCity's business model should be a virtuous circle. Google/SolarCity will become a profit machine while helping to create a residential solar boom, and growth will explode as new funders jump onto the roof-top solar space.