Anticipation, excitement, and anguish were all present during the ChemE Car competition at this year's Mid-Atlantic Regional Student Conference. This year, the conference took place at The Pennsylvania State University in State College, PA, April 8-10 and attracted students from Virginia, Bucknell, NJIT, City College of New York, Rowan, Stevens, Rutgers, West Virginia, Maryland, US Military Academy, Johns Hopkins, Manhattan, Widener, and Pittsburgh.
To kick off the weekend, the team from Steven's University was crowned the ChemE Jeopardy Champions on Friday evening. On Saturday, students had the opportunity to attend workshops, including AIChE After Graduation and Unique Industries and Opportunities for Chemical Engineers, presented by the Young Professionals Advisory Board. Other Workshops, like Instituting Mentorship Program to Increase Underclassmen Involvement and Alternate Sponsorship/Funding Ideas, centered around student chapter improvement. The Dow First Job Transition, presented by a sponsoring company, gave students a glimpse at what their future might hold. Alongside these workshops were the Research Poster Session, ChemE Car Poster Session, and Research Paper Presentations. The hallways were crowded with knowledgeable students and inquiring judges.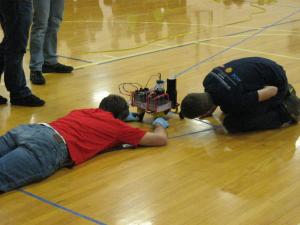 In the afternoon, the ChemE Car competition was underway - groups of students in matching labcoats huddled around folding tables, furiously making last-minute adjustments to their vehicles and measuring chemicals. "Will it go?" is always the first question in all of their minds. Once verified, the question shifts to "Will it stop?" Several contenders never left the starting line and others propelled themselves much beyond the finish line. One particular vehicle behaved the same each round, seeming to take off much faster than its brethren but stopping almost abruptly at the foot of the finish line. The vehicle in question was that of Maryland's team, who took first place and earned a spot at the Annual Meeting's Student ChemE Car competition. Other teams cheered, embraced and high-fived at better than expected results.
Saturday evening wrapped up the day's events with a banquet, awards ceremony, and keynote speaker. The awardees were as follows:
Research Poster:
First Place: David Montiero(Steven's Institute of Technology)
Second Place: Sachin Desai (Rutgers University)
Second Place: Jason Ware (West Virginia University)
Honorable Mention: Surya Manivannan (West Virginia University )
Research Paper:
First Place: Manuel Escotet (The Pennsylvania State University)
Second Place: Damon Vinciguerra (Bucknell University)
Honorable Mention: Kelly Barb (Rowan University)
Honorable Mention: Kristofer Gill (Widner University)
ChemE Car:
First Place: University of Maryland, CollegePark
Leader: Kevin Bates
Team Members: Weston Breda, Lucas Hedinger, Sanhya Patel, Adam Gradzki, Bob Latimer
Second Place: University of Pittsburgh
Leader: Yasir Arafat
Team Members: John Lyons, Nathan Aron, Nicholas Graf, Oren Lawit, Timothy Tallon, Stanislaw Gawel, Wafa Kouba, Peter Miller
Third Place:Bucknell University
Team Leader: Megan Wilson
Team Members: Laura Duffy, Mark Paleafico, Eric Dybeck, Andrew Lowrie, Amanda Britton, Chris Porter, Bridget Bozel, Katherine Wiley
Fourth Place: Rutgers University - Team A
Team Leader: Michael Edley
Team Members: Sammy Gulrajani, Pratik Suratia
ChE Car Poster:
First Place: Cooper Union
Second Place: City College of New York
Third Place: University of Pittsburgh
Most Creative Design: Rutgers University - Team B
Most Creative Vehicle Design: NJIT
The Keynote speaker for the evening was Dr. John R. McWhirter, graduate alum of Penn State and former Penn State professor. After earning his MS and PhD in 3 years, Dr. McWhirter went on to careers at DuPont, Mixing Equipment Co, and Union Carbide. In his speech, he spoke about some of his patented technology and how returning to chemical engineering basics can help you reach the optimal (and simplest) solutions. His advice for students going into the working world included: learn as much as you can about your company's technology, and understand the business aspects of the company.