NASA astronaut Cady Coleman has been living and working on the International Space Station since the Russian Soyuz spacecraft docked there four months ago. With a PhD in chemistry, as lead scientist she's been helping the more engineering-oriented crew understand the science experiments and their benefits for life on earth.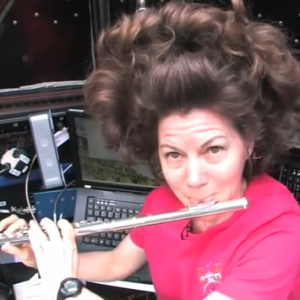 Recently, she made a video which you can view in the right hand window. She wanted to share a special place she's found in the cramped station to relax in her free time and play her flute. So after a quick tour down the station's long, equipment-crammed halls, past a still-working fellow astronaut, she enters the station's small, central cupola and explains,"...this is where I like to play." Then she lowers the four surrounding window hatches, and reveals a dramatic 360? earth view.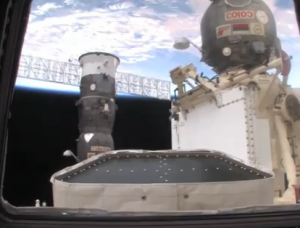 Coleman adds: "I've been having the nicest time up in our cupola. I float around... A lot of the time I play with my eyes closed." Generally her free time is at night and she likes to play where she's not going to disturb anyone who might be sleeping."I come here in the middle of the space station. We generally sleep on the ends." Along with her personal flute, she took three special flutes into space. Two are from the Irish music group The Chieftains--a penny whistle from group-leader Paddy Moloney--and a very old Irish flute from Matt Molloy. There is also a flute from Ian Anderson of Jethro Tull. Coleman has been in the space program long enough to have logged 500 hours in space before this mission, and even flew on Space Lab. Shortly before this current mission she also gave an interview to MIT Chemistry Lab's Chemformation magazine. Here are a few excerpts as Cady speaks with Liz McGrath of MIT's Department of Chemistry: Liz: You enrolled in MIT as a member of the US Air Force ROTC in 1979. Do you remember your first impressions of MIT? Cady: I really only applied to MIT because a bunch of the guys in my small physics class in high school (it was only me and them in the class) were determined to go there, and it was really clear to me that it never occurred to them that I might go! This offended me. I actually had no intention of going to what I perceived was a very one-dimensional school, but their attitude made me sufficiently mad, and I went ahead and applied just to show them. Then when I got accepted, my mother insisted I visit the Institute to check it out. I soon came to realize that MIT was a place filled with multidimensional people just like myself who liked to have fun, do sports, play music, and who considered that relationships and people were as important as math equations. Liz: Did you plan to major in chemistry when you first enrolled at the Institute? Cady: I came to MIT as someone who really liked and was interested in chemistry, but during freshman year, I realized that I could actually major in anything that I wanted to. I found that fact really empowering, and picked electrical engineering. For the first semester of my sophomore year, I was a very unhappy electrical engineering major! [laughs] Then I decided it wasn't so bad to do something which I had an affinity and an excitement for, so I switched majors and I have been in love with chemistry ever since. Liz: Did you ever imagine when you took up active duty in the Air Force as a research chemist in 1988 at Wright-Patterson Air Force Base that your career would lead you to being selected by NASA in 1992 to become an astronaut? Or was this a career you had aspired to even as early as your time at MIT? Cady: I did aspire to it, but I didn't share those thoughts with many. It's not a job that many get to do and I never thought I would actually get selected... To be an astronaut there are basic qualifications: a four-year degree in a technical field with three years of experience; a Master's degree plus two, or a doctorate plus none. I do feel qualified, but I also feel fortunate.