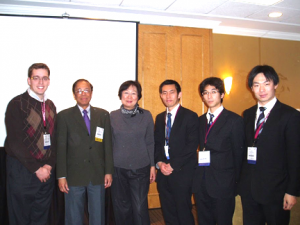 At the AIChE Spring Meeting in Chicago this past March, I co-chaired a session sponsored by AIChE's Environmental Division with Jon Smith, a fellow young professional (YP). The session covered topics related to environmental innovation and regulation. Our excellent speaker lineup represented a broad range of professions, including an air permitting engineer, an environmental consultant, a university professor and an environmental lawyer. The most exciting feature of our session was that it was catered to other YPs like us, following a unique format known as the YP "tutorial."
Inspired and instigated by the work of the YP Advisory Board, the YP tutorial is designed to offer programming that introduces topics associated with AIChE's 20 divisions and forums to early-career engineers attending AIChE Annual and Spring Meetings. The tutorials address fundamental issues or technical subjects that reflect participating divisions' own programming, its membership or professional base. They were launched just last year and are a relatively new feature of AIChE Meeting programs.
As an active member and officer of the Environmental Division, I was very excited to work with Jon in sharing our enthusiasm and interest in environmental talks that spanned presentations on the regulatory requirements of industry to the variety of options afforded environmental consultants who support virtually all types of businesses. The sticking point was as follows: few to no YPs attended the four Environmental Division's presentations.
What went wrong?
To other Divisions' YP tutorials' due credit, this was not a widespread phenomenon. In fact, other YP tutorial sessions witnessed remarkable turnout! However, the larger question of how to engage more YPs in AIChE programming is not new. YP tutorial session chairs held an ideas exchange forum and entered discussion with other YP colleagues and friends. From this important and eager discussion, some of the following points emerged that serve as a commentary to possible detractors from YP attendance at the tutorials and meetings in general:
Cost: The overwhelming response from event organizers, local section leaders and active members on a national level at AIChE, all of whom identify themselves as YPs, echoed that cost for the Spring Meeting acted as a major deterrent from attending. Not all firms subsidize conference attendance, and even those YPs whose registration is paid for still have to contend with travel expenses and time away from work.
Location: Given that a majority of local section residents and engineering offices are far from downtown Chicago, the commute to the location was not conducive to promoting local involvement or participation.
Advertising. Though local advertising was effective and widespread, the question arose as to whether AIChE Meetings would do well to advertise the event to other engineering organizations or societies that could be interested in AIChE programming. More importantly, advertising strategies to reach YPs nationally, especially those who might not yet be members of AIChE, should be revisited for the Meetings.
Layout. "In my opinion, session rooms were too spread out and some were difficult to find. Many people (not just YPs) make last minute decisions about which sessions they want to attend. There was no really good centralized location for posting announcements and advertisements to lure those people. Also, having all the YP sessions in one dedicated room might also encourage attendance." -Jessica Swary, Chicago
Means of Improvement
In response to the concerns outlined, a few YPs have proposed the following ideas to encourage further YP participation at National Meetings:
Involving AIChE Student Chapters in YP programming. "Considering the low cost of registration for undergraduates ($25!), the fact that [two] universities are already [in] downtown [Chicago], and that several of these universities' students were already volunteers at the conference, I was surprised that I didn't see any students at the YP sessions I attended. Although students are not YPs yet, they will become YPs (and hopefully professional AIChE members) shortly..." -Janet Chu, Chicago
Making YP programming easy to locate. The AIChE online program management portal, Confex, and the Meetings' online programs should allow for a way to search for YP events, too.
Improving communication. "A monthly newsletter that someone could put together and send to all YPs [would be helpful]. Different sections could write in and discuss activities they are doing--talks, social sessions, professional advice, advertising for meetings, and other topics of interest--and distribute it as an email included with their status as a young professional. That way we can communicate new ideas to each chapter." -Jon Haughton, Chicago
Ultimately, consensus was reached that these Meetings are valuable and should be marketed to YPs on a national scale more effectively and, perhaps, with more consideration for affordability among the YP demographic. YP tutorials are clearly only a small part of a much more massive program, so we all understand that attendance will be distributed among a number of sessions--not just tuorials. One notable comment that surfaced during the exchange of best practices among YP session chairs addressed the reasons why these YP tutorials should continue and what type of benefits they offer the Institute: specifically, because demonstrating vested interest in YP programming encourages leadership development:
"If I were the Divisions, I would view these sessions as more of a recruiting tool for inducting new members into being session chairs. If you can get one or two active YPs to become sessions chairs every year, it adds up and you won't have to scramble to find people to be chairs as I've seen some Divisions do in the past." -Brian Daly, Minneapolis
Now let's hear from you! If you are a YP, what draws you to be a member of your AIChE Division or Forum? If you aren't a Division or Forum member, what prevents you from joining? What can YP tutorial session chairs do to increase YP attendance at YP-focused sessions, or what keeps you from attending the sessions in the first place?
A special thanks to the Chicago YPAB Section for the photos, and as well as for their successful tutorials and the amazing job they did organizing YP activities at the Spring Meeting!