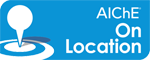 Samuel Thomas is the CEO for Chart Industries. His keynote address for AIChE's 14th Topical Conference on Refinery Processing explores the question "What Are We Going to Do with All This Natural Gas?". He discusses the consequences of how a dramatic expansion of natural gas due to North American shale gas production and LNG liquefaction. Ahead of his keynote address, Samuel had a few minutes to sit down and chat with Cindy Mascone, editor-in-chief of Chemical Engineering Process magazine. Watch the video interview in the panel to the right.
About Samuel Thomas
Samuel F. Thomas has served as chairman of Chart Industries' board of directors since March 2007 and as their chief executive officer and president and as a member of our board of directors since October 2003. Prior to joining Chart Industries, Mr. Thomas was executive vice president of Global Consumables at ESAB Holdings Ltd., a provider of welding consumables and equipment. Read more.
About Chart Industries
Chart Industries, Inc. is a leading global manufacturer of standard and custom engineered products and systems for a wide variety of cryogenic and heat transfer applications. The company's industrial gas equipment is used throughout the liquid gas supply chain in the production, storage, and end-use of natural gas and industrial gases. Read more.