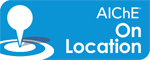 AIChE's Management Division recognized Anthony Cugini, Director of NETL, with its 2011 award for NETL's substantial contribution to the management of engineers involved in the chemical process industries, and to management techniques and procedures utilized in those industries. Sponsored by Dow Chemical, the award was presented yesterday during the 2011 AIChE Spring Meeting in Chicago.
Here's part of Anthony's response to receiving the award:
The achievements that this award recognizes are the result of long-term projects by


many talented people. Whether we are talking about onsite research by NETL scientists, the work of our dedicated contractors, or collaborations with our many partners, I'm proud of their contributions to these successes. In accepting this award, I represent the work of scientists, engineers, and analysts who seek to answer the nation's most pressing energy challenges. To see their efforts recognized by a world-class organization like the American Institute of Chemical Engineers is a tribute to their hard work and to our joint successes.
About Anthony Cugini of NETL:
Dr. Cugini has had a range of research interests over a wide cross section of energy and environmental technologies, including the kinetics of exothermic reactions, catalyst development, advanced carbon synthesis, hydrogen production and separation, gas hydrates, CO2 sequestration and computational modeling.
Read Anthony's complete bio.
Read about AIChE's Management Division.
Read more about the National Energy Technology Laboratory.