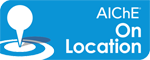 As Monday's sessions are underway, I wanted to share an observation:
It seems as though each cab I get in, the legend of the size of the conference grows larger.
"I heard there are 4 to 5,000 people at this conference" said the Express Shuttle driver who delivered me to my hotel.
"There are about 6,000 people here for the conference" said the Taxi driver who drove me home after dinner near the convention center last night.
Regardless of the exact quantity, there are a sizeable quantity of Chemical Engineers and other interested parties at this conference. One would think that finding a colleague would be like looking for a needle in a haystack... or finding the titration point as a first year Chem student.
But yet, I have managed to run into two former professors (including my major advisor), a former fellow student, and a former graduate student teacher. I also saw a few other professors from afar who I hope to run into before the end of the conference. Don't believe the world is small yet? One of the former professors at my alma mater has relocated and now working at the university where I am pursuing my graduate degree. There's nothing quite like a rainy day to catch up with someone during the short cab ride to the convention center.