A team of 3 female engineering students from Chatham, VA were among those honored at the White House Science Fair by President Obama.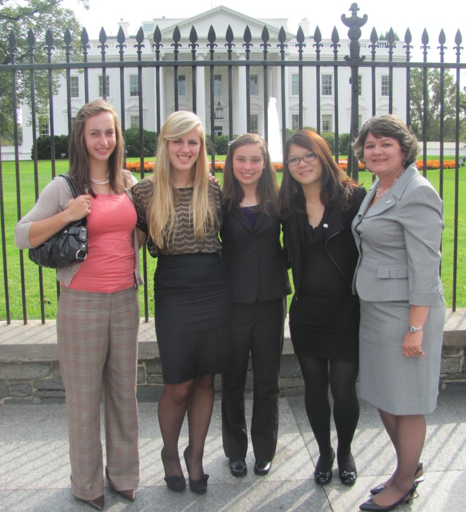 Led by their coach Molly Thomas, Libby Goldstein, Tally Stanley, Meredith Lee, and Chen Xie competed at the highest level of the national JETS TEAMS Competition for the third year in a row. According to JETS, these students have been challenged to understand how engineers can make a difference in the real world. Via JETS:
From exploring how engineers are involved in the logistics of large-scale athletic events, like the Olympic Games, to using their skills to provide access to clean water, the Chatham team has excelled in the TEAMS Competition. But their success, doesn't stop with winning academic awards as team coach, Molly Thomas, spoke of one 2008 team member, Sierra, who gives credit to the TEAMS competition for introducing her to engineering. Now enrolled in a university engineering program, Sierra comes back to speak with other young girls at Chatham about pursuing an engineering major and career.
JETS is a non-profit and education organization dedicated to promoting engineering and helping students discover their potential for the profession. You can learn more about it here.
The White House is making good on their commitment to inspire young students to take interest in math and science as part if his Educate to Innovate campaign. The result was the USA Science and Engineering Festival that took place the National Mall and in more than 50 satellite locations. President Obama, via the the Office of the Press Secretary.
"If you win the NCAA championship, you come to the White House. Well, if you're a young person and you produce the best experiment or design, the best hardware or software, you ought to be recognized for that achievement, too."
You can watch the president addressing students at the National Science Fair in the video below:
Related articles