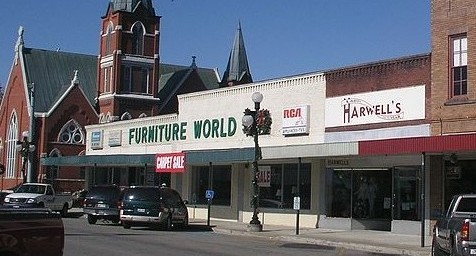 Urban eco-hipsters assume it will be years before they can drive their limited-range EV's far outside the alt-vehicle enclaves of Los Angeles, San Francisco and New York. But rural Pulaski, Tennessee, population 7,871, just began extending the city EV's range. Local business Richland, LLC, fortified with federal and state grants, spent $180,000 on the Southeast's first solar parking lot and charging station.
Pulaski's no Aspen. No visible exurbs for miles. Maybe a stray country western star--but he's probably driving an Escalade. So what's up? Pulaski is just 74 miles from Smyrna, (Nashville adjacent) Tennessee, where the Nissan Leaf all-electric vehicle is manufactured. Set to debut this December, the Nissan Leaf has a dashboard system that shows the driver where the nearest charge can be found, and now the state is preparing a network of stations to help ensure the car's success.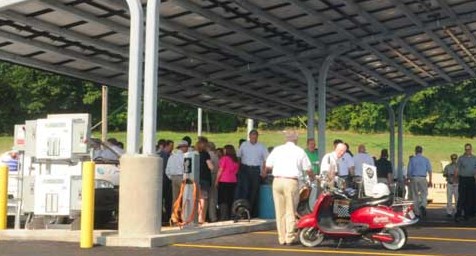 Once the first station's switch was thrown, current flowing from the roof's solar array to the charging stations below, crowds and media listened to the congressman, investors and builders responsible for the project.
"I invite everyone to come down and see what the future of modern parking lots will look like," Jim Greene P.E., President of Richland, LLC said. "We wanted to show that a company and a community can be cutting-edge and forward thinking, while still enjoying the benefits of a rural community," Greene said.
See the full story on Inhabit. You can see station WSMV's video of the opening here.
The station's solar panels can generate 20kw of electricity while charging four vehicles at a time. During slack periods, excess energy is sent back to the grid for additional revenue. The station is now open to any plug-in vehicle, including the soon to be released Chevy Volt.
Two more stations will open in Nashville and Chattanooga soon, and 14 more are scheduled to open in Tennessee over the next three years. If other states follow this trend, eventually hipsters will venture to Pulaski for a charge, even if their gps is searching for the next Starbucks wi-fi hot spot in Nashville.
See a full gallery of images on AutoBlogGreen.
Related articles by Zemanta