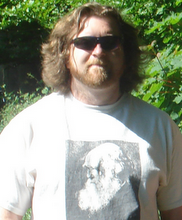 Crispian Jago, an IT consultant from Hampshire, England, is Science and Reason's most viscerally comic defender. He lampoons the world's religions and pseudo sciences from his blog: Science, Reason and Critical Thinking.
His blog's favorite authors list leaves no doubt about his loyalties: Richard Dawkins, Daniel Dennett, Sam Harris and Douglas Adams. Face it, you're not inviting him over to see the crop circles you've been saving in your back field, or watch Close Encounters of the Third Kind.
His first successful project was a satiric periodic table. Popular beliefs were given atomic weights and fictitious element symbols, then sardonically divided into "fruit-loop", "credulous" and "delusion" sections.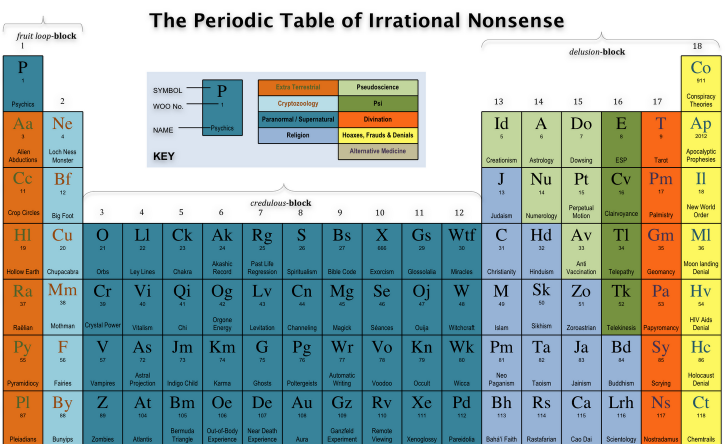 It includes dodgy "elements" like Big Foot (BF 12), Nostradamus (NS 117), Past Life Regression (Rg 25), and Psychics (P 1). All cable television staples.

On the other hand, to celebrate Reason, he recently created a convincing facsimile of the London Tube Map, methodically laying out "500 Years of Science, Reason & Critical Thinking via the medium of gross over simplification, glaring omission and a very tiny font."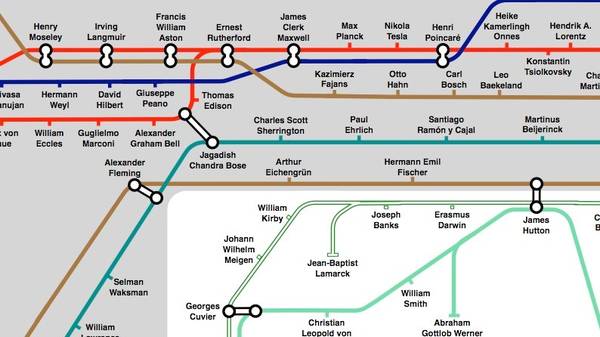 Click to see full-size map. Then click again on each name for biographic and historical information.
He named each station to honor and timeline-locate scientists whose work had developed the eleven disciplines represented by color-coded rail lines: from Brown/chemistry to blue/math to red/physics and light green/geology and paleontology, to name just four.
He explained his method: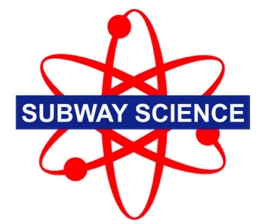 Reality is not as clear-cut as my oversimplified map. In most cases the origins of a discipline cannot be wholly attributed to one scientist, as required by my selected format. Consequently I made a number of uncomfortable decisions on where best to split the lines, which disciplines to merge together for map clarity and which lines to place certain scientists on. These decisions are of course wholly subjective and the price I had to pay for a nice flowing single page map.