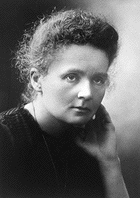 One morning this week, I heard an interesting but disheartening story on the BBC Radio. The story was called "Famous female scientists are unknown to UK public.
A survey, organised by the Royal Society, revealed that 90% of 18-24 year-olds could not name a female scientific figure--either current or historical.
That would mean that they could not name Marie Curie, or Florence Nightingale, Rachel Carson, Rosalind Franklin, or Jane Goodall. Half the respondents could name a famous male scientist (Albert Einstein topped the list).
Then, I was thinking of how many female chemical engineers have achieved high visibility and recognition. There are a few, and luckily the field is growing. First there are some who are National Academy of Engineering members, such as Kristi Anseth, Frances Arnold, Elisabeth Drake, Elizabeth Dussan, Alice Gast, Carol Hall, Ann Lee, and Miranda Yap.
Then there is Lisa Jackson, current head of the EPA, Dianne Dorland, the first woman president of AIChE (in 2003), and Maria Burka, AIChE's current president elect. There are probably many more as well.
Next year is the International Year of Chemistry. AIChE will be celebrating it as the de facto year of chemical engineering.
One of the focal points will be on women and minorities in the field. I hope that we all determine how we can increase the number of famous female chemical engineers.