Engineers routinely optimize process designs; poster designs need optimization, too.
In the August 2010 issue of Chemical Engineering Progress (CEP) magazine, L. P. Driskill, a professor of English and management communications at Rice University, provides an excellent "how-to" guide for engineers and students who need to prepare posters that capture and hold viewers' attention and effectively explaining their subject matter -- whether it be research, a technical process, or a job candidate.
Here are some of the recommendations contained in the article. Log-in to the August issue of CEP for the full story.
Trigger quick judgments about your project's purpose and significance
Draw attention to the title with large type, color contrasts, and a visually defined title area.
Reword your title to indicate the purpose and significance of your work.
Use terms specific enough to permit audiences to judge their interest but not so specialized that few will understand the title. Avoid low-content general terms such as "A Study of (General Topic)."
Increase accessibility so viewers can identify the poster's topic, organization, and how long it will take to view it
Arrange sections to suggest a visual argument about your project. The layout should suggest the logical relationships among the sections.
Signal a path for the viewers' eyes.
Choose color contrasts to emphasize the visual argument and draw attention to important parts, such as major headings and key diagrams.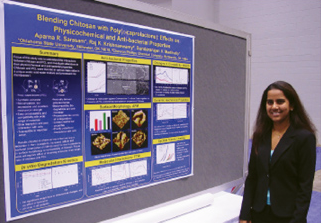 Make it easy for readers to understand your argument
Make the most important points about the project obvious and legible in the headings.
Deliver your message with high-specificity major headings (except for references, acknowledgements, etc.).
Summarize your message legibly; don't print a journal abstract in tiny point size. Make sentences in the summary lively; minimize passive voice.
Emphasize the poster's professional value to the viewer
In the abstract or summary, set your project in the context of other work.
Include references and future work sections.
Provide detailed contact information.

Increase legibility so readers will enjoy your poster's visual appeal
Use less text to improve the reader's first-glance impression of the benefit to be gained by reading relative to the time required.
Slim down fat text into bullet points and phrases (few sentences).
Maintain legibility by choosing text and background colors that contrast sharply.
Choose a san serif font that is easy to read from a distance, such as Arial, Helvetica, or Verdana, whose characters have nearly uniform shaft width and no "tails" or "feet".
Frame text with blank space; don't extend text to the edge of an area.
The August 2010 issue of CEP is now available online. AIChE members receive access to CEP, including a searchable archive of issues dating back to 2001, online at http://www.aiche.org/cep.