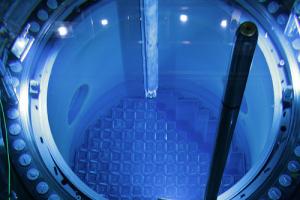 In March 1979, the American Institute of Chemical Engineers published a policy statement in Chemical Engineering Progress supporting reprocessing spent nuclear fuel and disposing the waste in a geologic repository. The AIChE concluded that viable technical solutions already existed at that time for the problems of high level nuclear waste disposal and that government uncertainties were the source of delay.
Thirty years later, little expansion of nuclear power has occurred even though it has demonstrated continually improved safety and economic viability.
During this period, disposal of high level nuclear waste has remained a government responsibility but a long-term spent fuel disposition pathway has not been defined. As a result there is no current high-level waste disposal repository under consideration nor is there an operating commercial nuclear fuel recycle facility. Today, the perceived threat of global climate change and the U.S.'s reliance on imported energy sources presents an opportunity in which nuclear power has become increasingly attractive for base-load electricity generation. Additionally, the Department of Energy has recently announced the formation of a Blue Ribbon Commission to recommend a safe, long-term solution to managing the Nation's used nuclear fuel and waste.
In 2009, the AIChE re-visited its policy on nuclear power and the fuel cycle. This position statement is the result of our investigation. The purpose of the statement will be to inform key stakeholders and decision makers (e.g. the Blue Ribbon Commission) of AIChE's position on spent nuclear fuel management and in doing so put ourselves forward as an informed, non-partisan professional body which stakeholders and decision makers may access to help them.
The lead author for the AIChE Nuclear Engineering Division Position Statement is Dr. Stuart Arm, the 2009 Nuclear Engineering Division Chair, but significant contributions from the Nuclear Engineering Division Executive Committee and collaboration with the Government Relations Committee are acknowledged.
The statement also appears as part of CEP's special supplement (to the July issue) on Nuclear Energy.