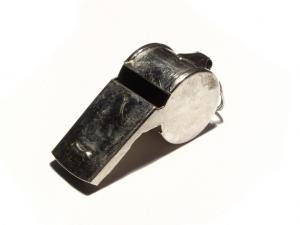 In a recent article CNNMoney.com article entitled "What BP was missing on Deepwater Horizon: a whistleblower", Eleanor Bloxham, CNN contributing writer and CEO of The Value Alliance and Corporate Governance Alliance wrote about factors that can affect an organization's culture with respect to its members ability and confort to speak up when something is wrong. She cites disparity between policies and reality with respect to BP/Deepwater Horizon and NASA/Challenger Incident and talks about the constant attention necessary with respect to keeping employees aware and comfortable. Bloxham writes:
The ability to ensure individuals voice safety concerns and that managers appropriately respond is a complex issue -- and one that is worthy of study. If it were simple, it would have been solved. But as Michael Griffin's statement outlines [Nasa/Challenger Incident], it is one requiring continuing attention. It goes beyond the engineering missteps and solving those issues. It is a human issue all organizations face and one all boards should examine and exert vigilance in overseeing.
What do Organizations Need to Consider to Create a "Culture of Speaking Up"?
Organizational outsiders often feel more comfortable speaking up than those directly responsible for making decisions.
The smaller the environment and community, the less likely there will be a whistleblower.
Codes of Ethics and Professional Standards are vital.
Employees not only need to be reminded of their responsibility to come forward but also be assured that they are protected from retaliation.
Bloxam cites the Codes of Ethics for engineering organizations, including that of AIChE:
However, individuals must achieve a sense of allegiance to those codes and professional standards that is greater than the pressure for allegiance to the group in which they work. For example, as a general matter, engineering organizations have codes of ethics. The Code of Ethics for the members of the American Institute of Chemical Engineers states that they shall "Hold paramount the safety, health and welfare of the public and protect the environment in performance of their professional duties".
You can read the full article here. Are you an AIChE member? Take the time to become more familiar with our Code of Ethics. It's an easy-to-remember URL: http://www.aiche.org/code
Additional Ethics-Related Resources: