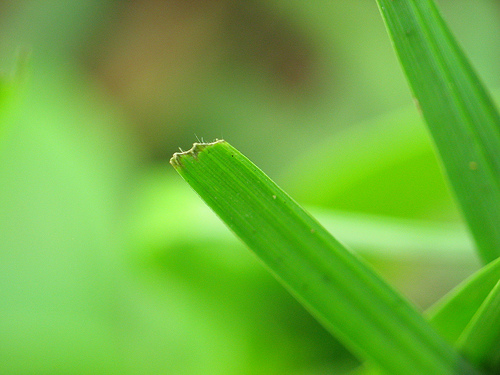 With warm weather and sunny days, thoughts turn to being outside and getting in touch with nature. This can be heading out to a local park for a picnic, digging into a garden, playing catch in the yard, or enjoying some summer produce at a local market. For all of these places, we have an image for what they should look like. When the reality differs from the image, we ask: 'How can we fix this?'
If you ask this question to a typical lawn care company, they will likely have an easy fix to the problem with the squeeze of a squirt bottle or the spray of a hose. This is like hiding maintenance issues on a heat exchanger by increasing the heater duty. The outlet temperature matches the setpoint, but the reason behind the change is unresolved. Soon the flow needs to be decreased and, eventually, the exchange ceases to work. But are we asking the wrong question? Should it be "What is the cause of this?" Is there a fouling problem in the tubing? Are some tubes blocked? Has something upstream changed?
A healthy lawn should be strong enough to cope with pests and competitors in its environment. Additives to kill pests will weaken the lawn, leaving it more susceptible to other pests and plants. Then another additive is required to combat the new threats. Then since the lawn and soil is damaged (these additives wipe out helpful organisms also) more fertilizer or food for the lawn is required. Since if any one of these inputs is not tuned correctly there is a detrimental effect, the more inputs there are the more complicated the control becomes. A typical lawn care plan can require up to 8 applications per year--not including any pests or other problems that might appear.
There is a better way, just as asking 'What is the cause?' can identify maintenance issues early, this question can better serve your landscape. A healthy plant that is selected for the local conditions (well-drained, highly sandy/organic soil, wet, sunny, shady, hot, etc) can better establish itself and with minimal inputs defend its turf against any invaders, diseases, or weather cycles. Healthy plants also need healthy soil to deliver necessary nutrients and provide the correct growing environment.
A typical lawn company may also say that a healthy plant is a better plant, but their healthy plant relies on frequent supplements and additives. This is not healthy, it is dependent. These applications also tend to be generic applications described as required for many conditions. If soil needs any amendments this should be a targeted response determined by study of the soil and resulting symptoms in the plants.
In Chicago there is an organization that helps with this exact mission--The Safer Pest Control Project (SPCP). The SPCP advocates reduced pesticide usage by limiting pest access to food, water, and hiding places using Integrated Pest Management (IPM). SPCP works closely with schools, municipalities, childcare facilities, and others to reduce pesticide exposure--especially to children who are especially sensitive due to activity, metabolism, and size. SPCP screened the film 'A Chemical Reaction' in Winfield, IL on June 10th that examined this topic. SPCP can also help if you would like to host a screening.
These programs are gaining more traction north of the border with numerous Canadian municipalities banning cosmetic pesticide use. There is growing support in the U.S. with some areas considering regulation or at the very least committing to reducing their chemical usage. The largest pushback on these bans seems to be coming from industry with Quebec, home to the strictest rules, being sued by Dow over the banned list of chemicals. Dow's stand is that the ban was enacted without scientific basis on products approved for market.
Reference Links Related to Safer Pest Control:
Do you have a lawn or garden? How do you control pests? Any thoughts?

Related articles by Zemanta