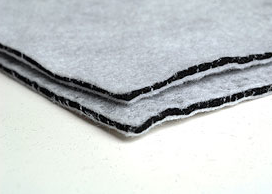 Chemical Engineers at The Insitute of Environmental and Human Health at Texas Tech University have developed a contamination wipe, Fibertect, made of non-woven cotton and a carbon core that has thus far been used as part of decontamination kits for removing chemical and biological warfare agents. Texas Tech claims that Fibertect also makes an excellent sponge to soak up large amounts of oil, i.e. that floating in the Gulf of Mexico caused by BP's Deepwater Horizon spill. According to Texas Tech:
If made into booms, it would not only absorb 40 times its weight in oil, but also detoxify much of it...
Texas Tech's Institute of Environmental Health sent an iReport to CNN to demonstrate how Fibertect works:
Fibertect is manufactured by a a company called Hobbs Bonded Fibers. You can download an information sheet on the product here. Texas Tech says that Fibertect would be particularly helpful on soaking up oil on the Gulf coastlines. This sounds like a better solution than anything that BP has tried so far.