In an era of hyper-branding, normally whenever a corporation changes its name and logo — altering the image countless commercials have indelibly burned into consumer psyches — it's usually a Hail Mary pass thrown by desperate management trying to dodge a PR disaster.
But we're not living in normal times, especially in the volatile energy business, when on June 1, 2015, after revamping its technology, refineries and fuels, and then followed by long, careful deliberation, Neste Oil, a Finnish oil refining and marketing company, officially dropped "oil" from its name.
That typographically small but momentous change dramatically illustrated the company's recent growth (see its press release).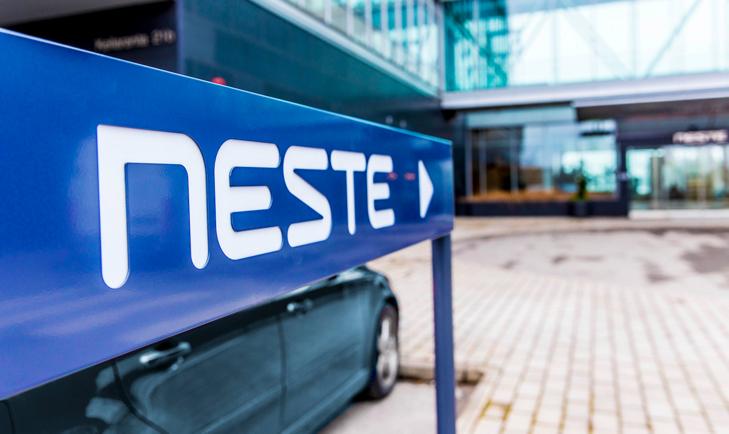 ---
"Products based on renewable feedstocks have become a significant part of Neste's business, and the word "oil," referring to fossil crude oil, no longer gives a correct overall picture of the company," president and CEO, Matti Lievonen said.
At the time, the change flew under the radar in the United States, only registering in Europe and among customers at the company's stations in Finland, Estonia, Latvia, Lithuania, and St. Petersburg.
But in just under a decade, the company has gone from a traditional oil-driven company to the world's biggest producer of renewable diesel, producing 2.1 million metric tons (more than 680 million gallons) last year from its three NExBTL refineries in Singapore, Rotterdam, and Porvoo in Finland, where the two original units were commissioned in 2007 and 2009.

---
Better than traditional biodiesel
On the market for only eight years, new fleet customers have been rushing to order Neste's advanced hydrocarbon-mimicking fuel because it's fully interchangeable with petroleum diesel, and there's no limit to how much can be mixed with the traditional fuel; it can also be transported and stored with existing pipelines and tanks, and used in vehicles without modifications. In other words, it's a drop-in fuel with all of its advantages.
Processing a variety feedstocks from fats, plant oils and waste residues, Neste's hydrotreated vegetable oils (HVO) are a radically improved alternate to traditional biodiesel esterification from biomass, and the acronym HEFA (hydroprocessed esters and fatty acids) is increasingly used.
As straight chain paraffinic hydrocarbons, HEFA's offer many benefits to drivers over FAME (fatty acid methyl esters), like reduced NOx emission, better cold properties, and a higher cetane rating. They're similar to biomass-to-liquid (BTL) diesel fuels produced by Fischer-Tropsch (FT) synthesis.
Neste's bio-refineries also produce renewable jet fuel, renewable gasoline, and renewable propane.
World's largest logistics company
Neste popped up on US radar last summer after UPS announced that it would buy up to 46 million gallons of renewable diesel fuel from three companies: Neste; Renewable Energy Group, based in Ames, Iowa; and Solazyme, based in San Francisco. Neste and REG both produce renewable diesel from oils and fats, while Solazyme makes an algae-derived oil that is refined into renewable diesel.
---
---
Renewable diesel will help UPS shift more than 12 percent of its ground fuel from conventional diesel and gasoline to alternative fuels by the end of 2017.
Although global demand for the new fuel has been smaller than for biodiesel and ethanol — a little more than a billion gallons a year — Victor Oh, an analyst at Lux Research, told the New York Times that the market is growing faster and expected to reach 1.6 billion gallons in the next three years, largely driven by demand for renewable jet fuel.
"It can replace diesel completely without any kind of blend-wall, so that's really one of its huge advantages," Mr. Oh said.
A 21st-century business model
Neste's success with renewable diesel has protected the company during an oil collapse that has delayed $380 billion worth of investments and forced most traditional oil companies into survival mode. According to Lux Research, Neste will survive primarily because of lowered production costs achieved through feedstock diversification.
It looks like Neste has created a new business model: avoiding the high costs of oil exploration by building its global feedstock supply chain instead. Like UPS, Neste is actually a vast logistics company, but it's dressed up as a fuel exporter.
Neste's feedstock supply is truly global, and the company continually searches for a wider array of sources.
"Neste is the only energy company in biofuels that is running a truly global business model; we get feedstocks from all over the globe," said Kaisa Hietala, executive vice president of renewable products for Neste.
In 2014, Africa and Antarctica were the only continents untouched by Neste. "We have successfully searched for waste and residue, and last year their share was already over 60 percent," Hietala says. Of the 2.1 million tons of renewable diesel produced last year, 1.3 million tons were from waste- and residue-based materials, or roughly 62 percent of its feedstock consumption. That's up from 52 percent in 2013, and 35 percent in 2012.
Because production from waste-based feedstock is more efficient, Neste aims to have the capability to use 100% waste and residues by 2017. Looking for new waste-based raw materials of increasingly poorer quality uses the majority of the company's R&D budget.
Investing 1.5 billion euros ($1.64 billion) in NExBTL refining capacity, importing waste-based and virgin feedstock from around the world, and exporting renewable diesel to many of those same overseas markets are capital-intense endeavors—but they're also highly profitable. Last year, operating profit for its renewable diesel division was 238 million euros, said Hietala. "That's around 40 percent of Neste's total profit," she told Biomass Magazine.
In 2014, the company sourced waste and residues like animal fat, fish fat, palm and other vegetable oil fatty acid distillates from Australia, Asia, South America, Europe, and North America. Used cooking oil became a part of the company's feedstock base for the first time last year.
The company's three renewable diesel production facilities in Singapore, Rotterdam, and Finland use different feedstocks at different times. The countries supplying the feedstock change too. "We optimize our feedstock according to price and markets," she says. "Our technology is very flexible. We can use a dozen different feeds. On top of product quality, this is our key competitive edge."
Last spring — right in the middle of the oil crash — Neste planned to increase its renewable diesel production capacity to 2.6 million tons by 2017. "This is mainly debottlenecking some parts of our process and learning to operate the refineries better," Hietala confidently told Biomass. "No major investments are needed." She added that the company is constantly looking for new markets, and it is a strong possibility that new applications, such as low-level blends of biojet fuel or biobased chemicals, will increase the demand of NExBTL "considerably."
Will renewable diesel squeeze traditional diesel and the oil majors?
Images: Neste station and refinery, Neste; UPS truck, Angelo DeSantis