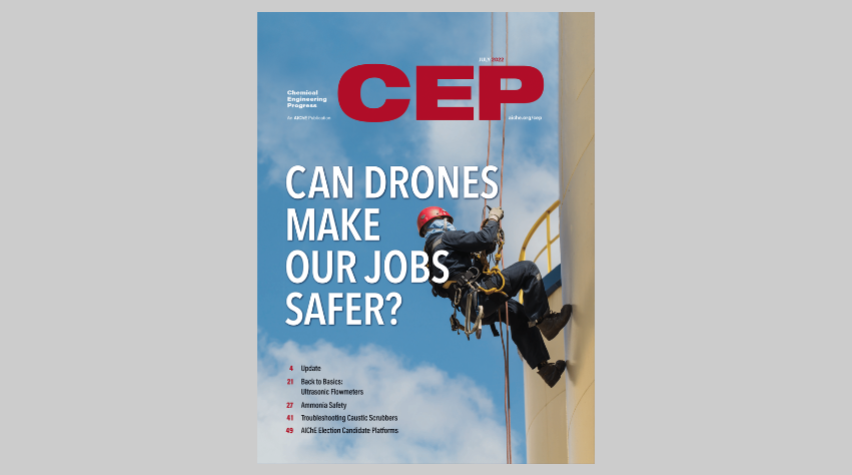 Back to Basics
Introduction to Ultrasonic Flare Gas Flowmeters
Ultrasonic flowmeters use sound waves to calculate fluid velocity, offering versatile flow measurement of challenging fluids such as flare gases.
Safety
Designing a Toxic Shelter: An Art and Science
The release of toxic ammonia can pose significant risk to personnel at facilities that handle the material. This risk can be mitigated through the construction and operation of highly effective toxic shelters.
Plant Operations
Establishing a Global Robotics Program
A robotics program can provide many benefits, from improved safety to cost savings. This article provides advice for launching a robotics program at your organization.
Reactions & Separations
Troubleshooting a Caustic Scrubber
This article outlines the steps used in a case study to troubleshoot a caustic scrubber that could not consistently meet design specifications.
Update
Gene Editing Could Make Veggies a Source of Vitamin D
Scientists Create a Pacemaker that Dissolves Over Time
Don't Expect Chemical Accuracy From Marijuana Labels
Business Update
Plus
Editorial:Drones Are Really Taking Off
AIChE Journal Highlight: Using Ionic Liquidic Zeolites to Separate Methane and Nitrogen
Catalyzing Commercialization: Gene Editing Promises New Disease-Resistant Citrus Trees
Process Safety Beacon: Manage Temporary Changes — Including Clamps
New Products: Fluids and Solids Handling; Software; Laboratory Equipment; Environmental, Health and Safety; Instrumentation; Operations and Maintenance
ChE in Context: Chemical Engineers Tackle Climate Solutions
Patent Update: Don't Patent That!
Spotlight on Safety: Flocking Behaviors Can Help Improve Safety Effectiveness
Institute News

2022 AIChE Election Candidate Platforms
Reichmanis Named 2022 Prausnitz AIChE Institute Lecturer
AIChE Student and Early-Career Members Awarded Tau Beta Pi Fellowships
In Memoriam
The July issue of CEP is now available on the AIChE website, on the CEP app, and as a digital flipbook.