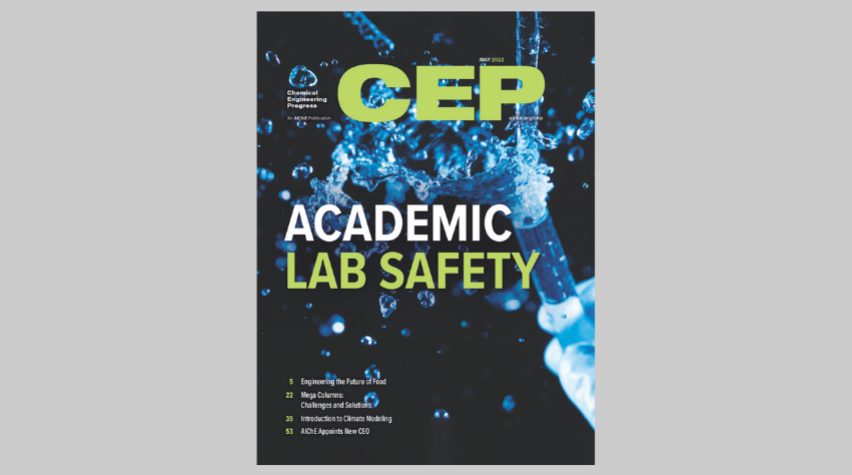 Back to Basics
Mega Columns: Challenges and Solutions
Mega columns will play an increasing role as refining and petrochemical facilities look to meet carbon-neutral goals and implement post-combustion carbon capture.
Safety
Translating Industrial Lab Safety Practices to Academia
Many academic lab safety programs have room for improvement. This article demonstrates how to implement certain industrial lab safety practices in an academic environment.
Computational Methods
Introduction to an Atmospheric Radiation Model
Learn the basics of an easy-to-use atmospheric radiation model to gain insight into the detailed mechanism of global warming.
News Update:
Engineering the Future of Food
Are Your Operations Safe from Hackers?
Plus
Editorial: Milestones and More to Learn
Business Update: New monthly department covering major business-related developments
Catalyzing Commercialization: Novel Additives Promise Strong, Lightweight Composites for Commercial Transportation
AIChE Journal Highlight: Hydrogen Production via Chemical Looping Dry Reforming of Methane
Process Safety Beacon:"What Happens If?" An Important Question for Hazard Reviews
Emerging Voices:Ingredients for Success at AIChE's Beer Brewing Competition
New Products: Operations and Maintenance; Software; Materials and Chemicals; Instrumentation; Laboratory Equipment
Career Connection: How to Prepare to Create a Great Résumé
AIChE Foundation: Making an Extraordinary Impact
Institute News

AIChE Appoints Darlene S. Schuster as New CEO and Executive Director
SBE Launches Fellowship Named for Founding Director June Wispelwey
Meet Some of AIChE's New Fellows
In Memoriam: Robert H. Smith
The May issue of CEP is now fully available on the AIChE website, on the CEP app, and as a digital flipbook to AIChE members. Become a member or renew your membership today.