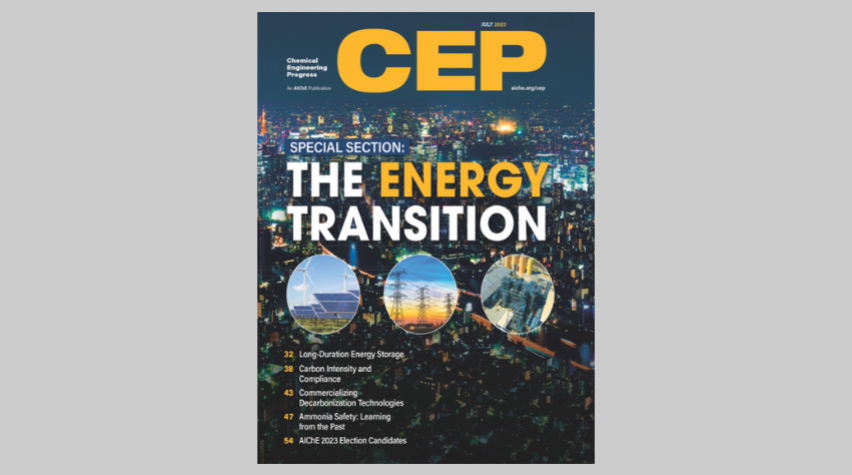 Special Section: The Energy Transition
Energy Update
Process Heating: A Key Step in Industrial Electrification
For Solar Energy Investment, Waiting Is No Longer an Option
Sodium-Ion Batteries Go Commercial
Electrifying Transportation Will Strain Critical Metal Supply Chain
Long-Duration Energy Storage Can Lead the Clean Energy Transition
Emerging long-duration energy storage technologies will be a critical factor in the decarbonization of energy generation.
Previewing the U.S. DOE's Industrial Decarbonization Roadmap
The roadmap provides a framework for technology pathways needed to achieve net-zero GHG emissions in the industrial sector by 2050.
The Importance of Carbon Intensity and Compliance to Meet Decarbonization Goals
Determining a product's carbon intensity is the first step in understanding the value of that product and taking advantage of the carbon markets and carbon credits available to companies today.
Commercializing Decarbonization Technologies
An important part of moving sustainable technologies to market will be addressing the technoeconomic challenges associated with these technologies during project development. Pilot testing is one key step of de-risking commercialization.
Safety
Learning from the Worst Ammonia Accident
The worst industrial accident involving ammonia occurred in Dakar, Senegal, in 1992. This article presents an analysis of the incident and its resulting consequences to help prevent future ammonia incidents.
Update
Engineering a New Virus to Deliver Gene-Editing Tools
Cooling Power Plants with Brackish Groundwater
The Future of Long-Term Data Storage Lies in DNA
Business Update
Plus
Editorial: The Energy Transition Paves the Way to a Decarbonized Future
AIChE Journal Highlight: Modeling Fluid Flow in Redox-Flow Batteries
Catalyzing Commercialization: Providing Complete Hydrothermal Destruction of PFAS
Process Safety Beacon: Battery-Powered Devices Can Be Ignition Sources
New Products: Instrumentation; Bioprocessing; Engineering Services; Materials and Chemicals; Laboratory Equipment; Operations and Maintenance; Software
Che in Context: Public Policy and AIChE
Patent Update: Use Litigation Funding to Enforce Patents
Emerging Voices: Sustainable Ways to Heat a City
Institute News

AIChE Election Candidate Statements
Mark R. Prausnitz Selected as 2023 AIChE Institute Lecturer
Nance Named Editor-in-Chief of Bioengineering & Translational Medicine
AIChE Financial Statements 2022
The July issue of CEP is now available on the AIChE website, on the CEP app, and as a digital flipbook.