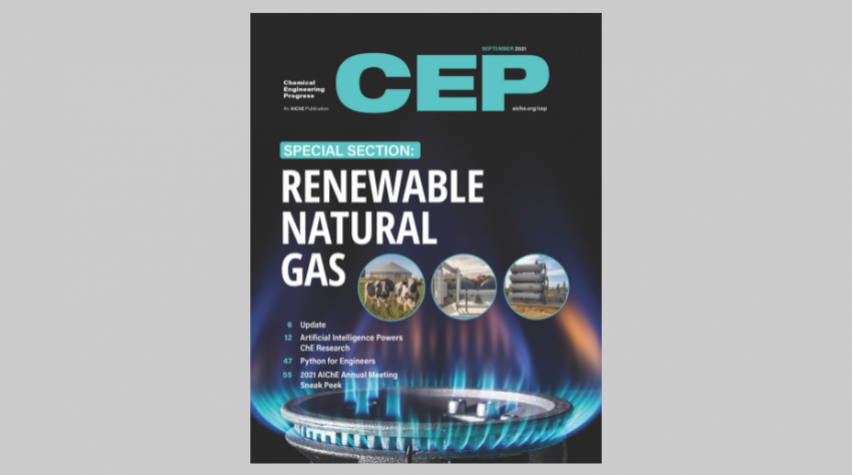 Special Section: Renewable Natural Gas
Riding a Wave of Waste to a Clean Energy Future
Upgrading Biogas to RNG: Favorable policies and environmental benefits are earning renewable natural gas (RNG) market acceptance. Upgrading technologies are critical to producing RNG that is ready to serve this market.
Farm-Based Anaerobic Digestion to Catalyze Decarbonization: Food and beverage waste can be combined with manure from farms in anaerobic digesters to produce renewable natural gas.
Incorporating RNG into the Gas System: Gas utility providers are working to overcome technical challenges and implement renewable natural gas as a clean energy source.
Join the first #AIChEchat on renewable natural gas.
Back to Basics
Step Into the Digital Age with Python: The programming language for everybody is for chemical engineers, too.
Update
Study Highlights Gender Differences in STEM Aspiration
A Novel Material for Thermoelectric Technology
Creating Plastics with Water and Cellulose
Nanomaterial Tougher Than Steel
Pinpointing Cleaner, Greener Hydrogen Production
Artificial Intelligence Powers Chemical Engineering Research
Plus
Editorial: Learning a New Language
Letters: Bourbon Production Is Not Immune to Safety Incidents; Flu Mortality Rates: The Math Doesn't Add Up; Not All MBAs Are the Same; Editorial Advisory Board Member Receives Distinguished Alumni Award
Catalyzing Commercialization: Ultra-Cool Metal Roofing Material is Poised to Reduce Energy Needs
Process Safety Progress Highlight: AI as an Ally in Hazard Analyses
Process Safety Beacon: The Nose Does Not Always Know
New Products: Instrumentation; Fluids and Solids Handling; Laboratory Equipment; Software; Materials and Chemicals; Operations and Maintenance; Environmental Health and Safety
Trends: Introducing the Food Engineering, Expansion and Development (FEED) Institute
Emerging Voices: Looking Beyond the Engineering Perspective
Meeting Sneak Peek: AIChE Annual Meeting Set for Boston, Nov. 7–11; Online Nov. 15–19
Institute News

Meet Some of AIChE's Recently Elected Fellows
AIChE Announces Inaugural Class of Future STEM Scholars
Center for Hydrogen Safety Partners with bp in Energy Transition
AIChE Election Begins Sept. 7
In Memoriam
The September issue of CEP is now available on the AIChE website, on the CEP app, and as a digital flipbook.