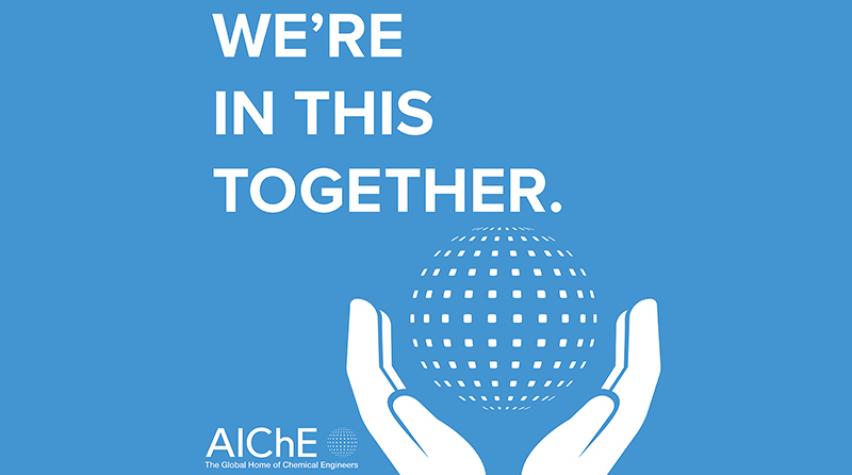 Welcome to AIChE's What's Trending feature, where you'll discover some of our most viewed and read content from prior months. We know that many of you have been impacted by the ongoing COVID-19 situation and now, more than ever, it's important to connect with your network of chemical and related engineers. This has provided us with a reminder that even in uncertain times, AIChE is a diverse community of people who lead, create, inspire and learn—together.
AIChE is here to help. Knowing that many of our members are working virtually, we have created a page to act as a hub for online content, access to communities, and communication updates. Read more.
#WereInThisTogether
Want to be featured in our next AIChE trend report? Make sure to follow us on Facebook, Twitter, Linkedin, and YouTube and use hashtag #AIChEtrends when you share.
Readers' Top Pick: Meet Process Engineer David Griffith
The latest in a series of AIChE blog posts profiling process engineers, a diverse group of professionals spanning multiple industries and regions. In this series, we profile process engineers who work in fields as diverse as petrochemicals, pharma, bulk chemicals, food, and any process-intensive industry.
This month, we introduce you to David Griffith, a multifaceted process engineer who is currently working as a professor at the University of St. Thomas in Houston, Texas. He discusses the many hats he's worn throughout his career, the source of his inspiration, and the importance of his work. Read more.
We Shared: AIChE Foundation Awards the 2020 First Cycle of Grants
The AIChE Foundation is pleased to announce the following projects have been awarded grants for the 2020 first cycle of funding. Bi-annually, the AIChE Foundation invites Operating Councils and Board Committees to submit grant proposals for innovative projects that further the Foundation's Doing a World of Good campaign priorities, address societal needs, and advance the chemical engineering profession. The generous support of our leadership donors to the Annual Fund enables the AIChE Foundation Board of Trustees to award funding to these innovative and essential projects. Read more.
Applications Open for Langer Prizes
The Langer Prizes for Innovation and Entrepreneurial Excellence awards unrestricted grants of up to $100,000 to assist researchers — particularly those working in chemical and biological engineering— in pursuing "blue-sky" ideas that may lead to game-changing technical and commercial innovations. Learn More.
We Recognized:
On Wednesday, January 29, Shakeel H. Kadri, Executive Director & CEO of AIChE's Center for Chemical Process Safety (CCPS)®, testified before the Senate Committee on Environment & Public Works on the mission and role of the Chemical Safety Board (CSB).

We believe that CSB plays a critical role in keeping Americans safe and in strengthening the performance of our process industries. Download the testimony.
National Academy of Engineering Elects AIChE Members to 2020 Class
The U.S. National Academy of Engineering (NAE) has announced the election of 87 new members and 18 foreign members to its 2020 class. Click here to see which AIChE members joined the NAE's distinguished ranks.
We Discussed on AIChE Engage
Your top discussion was about Material Balance.
Join the conversation. Other popular discussions on Engage include:
We Networked
We learned, networked, and shared at recent conferences, such as the ICBE Asia 2020 - 10th International Conference on Biomolecular Engineering, Sustainable Waste Management Workshop, 2020 Brazil Student Regional Conference, CCPS India Regional TSC Meeting, and CCPS Middle East Regional TSC Meeting.
Make sure to save the date, submit an abstract, and register for an upcoming conference here.
Given the uncertainties related to planning physical conferences, we are reviewing our upcoming conferences and events to determine their timing and whether they will be held in-person or virtually. In the meantime, we encourage you to continue to submit abstracts or register for upcoming AIChE events. Please note that we have relaxed our cancellation policy. This means that you can continue to submit abstracts and register for our conferences and events without having to worry about registration fees, should you not be able to attend.
Conference recommendations:
Stay up to date with AIChE and join the discussion. #AIChEtrends