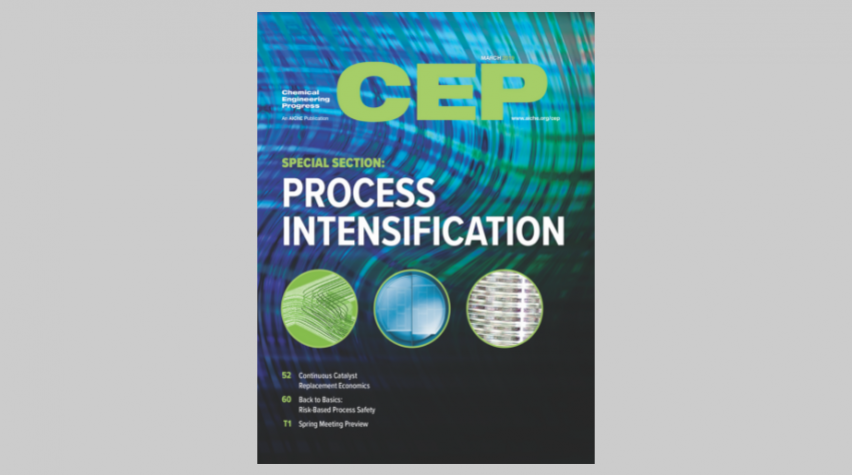 Special Section: Process Intensification
Process Intensification in Practice
RAPID's Quest for Intensification
These and other RAPID-funded ventures could transform industry by making chemical processes cleaner, smaller, safer, and more energy-efficient.
Introduction to Dividing-Wall Columns
A dividing wall can be added within a distillation column to improve the separation efficiency of three or more products.
A Building-Block Approach to Process Intensification
This new approach represents chemical processes as abstract blocks arranged in a two-dimensional grid. Mathematical-programming-based optimization can identify the best design for intensification at the equipment and flowsheet levels.
Using Simulation and Digitalization for Modular Process Intensification
These tools enable engineers to create a digital twin of a process, which can be key to developing new technologies and testing them virtually at a rapid pace.
Reactions and Separations
Evaluate Catalyst Replacement Economics: Part 2 — Continuous Replacement
Reaction conversion and selectivity can deteriorate as a catalyst ages. Optimize continuous catalyst makeup and replacement rate to improve profitability.
Back to Basics
Risk-Based Process Safety
What happens when organizations don't follow risk-based process safety guidelines?
News Update
Using Bacteria to Kill Bacteria: A Clean Water Solution
A Robot that Acts Like a Houseplant
Engineers Capture the Sun in a Box
From Liquid to Solid in Seconds: Near-Instantaneous 3D Printing
Plus
Editorial: Getting Creative with My Writing
Catalyzing Commercialization: Microfluidics-Based Bioanalytical Solutions Change the Game
AIChE Journal Highlight: Quantitatively Assessing the Structural Effect of Hierarchical Zeolites
New Products: Fluids and Solids Handling; Environmental, Health, and Safety; Instrumentation
INTERPHEX Expo Preview
Process Safety Beacon: Undetected Ball Valve Failure
Patent Update: Patentable Invention or Mere Optimization?
Young Professionals Point of View: Two Roads: MS ChE or MBA?
Technical Entity Trends: Entrepreneurship in the CPI: Paving the Road to Innovation
Institute News

2019 Spring Meeting and 15th Global Congress on Process Safety
AIChE Members Elected to the National Academy of Engineering
The March 2019 issue of CEP is now available online. AIChE members receive access to CEP, including a searchable archive of issues dating back to 2001, online at https://www.aiche.org/cep.