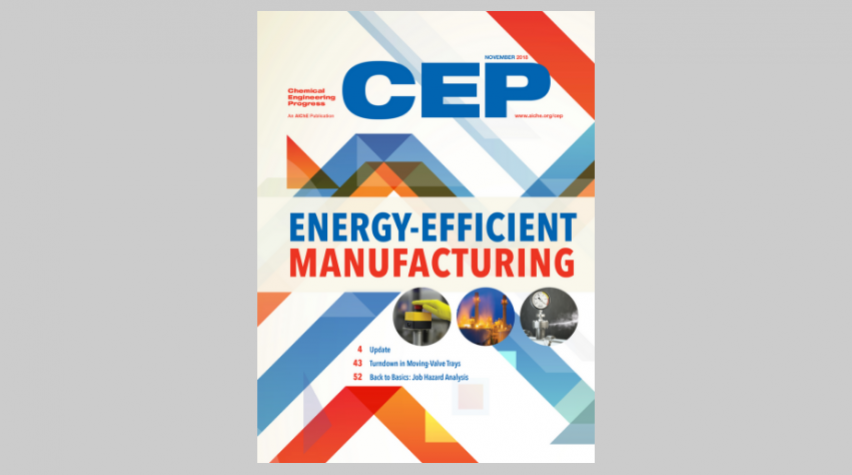 Back to Basics
Essentials of Job Hazard Analysis
Job hazard analyses require employees and employers to think critically about the dangers of a work environment and prepare operators for the unexpected.
Special Section: Energy-Efficient Manufacturing
Win the Race to an Energy Efficient Future
Better Plants: Working with Manufacturers to Save Energy
The U.S. Dept. of Energy's Better Plants program provides technical assistance, training, software, and tools to help manufactures improve their energy performance.
A Ten-Step Process for Energy Analysis
Understand the energy used to transform raw material into finished product to enhance energy efficiency.
Reations and Separations
Can We Count on Good Turndown in Two-Pass Moving-Valve Trays?
At turndown, the efficiency of two-pass moving-valve trays may be lower than expected due to maldistribution of the vapor within the trays. This article explores this maldistribution and describes ways to alleviate it.
Update
San Francisco Plastic Ban Inspires Criticism and Innovation
Microparticles Scrub Away Biofilm
Engineers Use Smartphones to Detect Lead in Drinking Water
AI Predicts Organic Reactions
There's A New Way to Sense Viral RNA, and It's Gold
Plus
Editorial: Clean Water: What is it Worth?
Catalyzing Commercialization: Membrane-Based Technologies Treat Produced Water from Oil and Gas Operations
AIChE Journal Highlight: Characterizing Complex Nanostructured Catalysts
YPOV: Advice for Young Managers: R-E-S-P-E-C-T
Process Safety Beacon: Several Small Changes Can Add Up to a Big Problem
Spotlight On Safety: Abnormal Situation Management
New products: bioprocessing, software, instrumentation, operations and maintenance
Technical Entity Trends: The Food Industry Responds to Consumer Demands
Institute News

AIChE and Wiley Announce Launch of Journal of Advanced Manufacturing and Processing
Trinseo's Support Expands AIChE's Student Process Safety Workshops to China
Member News
The November 2018 issue of CEP is now available online. AIChE members receive access to CEP, including a searchable archive of issues dating back to 2001, online at https://www.aiche.org/cep.
CEP now has a mobile app available for download on the Apple and Android platforms. You can now have CEP at your fingertips — from the latest R&D news and new equipment to feature articles and special sections. Download the app.