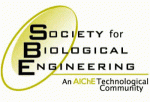 This post is presented by SBE, the Society for Biological Engineering--a global organization of leading engineers and scientists dedicated to advancing the integration of biology with engineering.

How can biomolecular engineering address grand challenges in healthcare and the environment?
The meeting brings together researchers using quantitative approaches to advance the understanding and application of biology at the molecular level. Get More Information and Register.