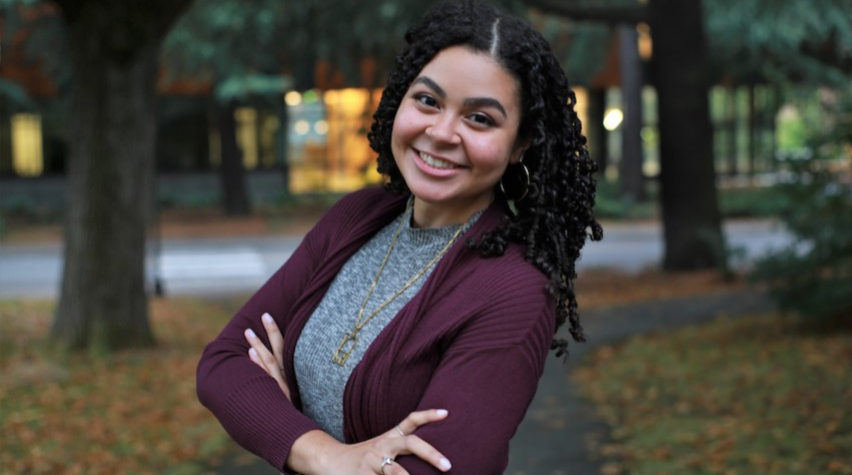 Sydney Floryanzia is an emerging chemical engineer working on critical issues such as developing drug delivery methods to cross the blood-brain barrier, a significant challenge for today's healthcare industry.
At 22, she has appeared in several commercials, guest starred on the weekly podcast Her STEM Story, answered AIChE's #WhyCheme Challenge, and even delivered a TEDxTeen Talk. Aside from being a passionate science communicator, Floryanzia is also pursuing a PhD in chemical engineering at the Univ. of Washington.
How does she keep so motivated and energetic? By taking time to enjoy her childhood passion for music, Floryanzia says. She has played piano and guitar since she was a child, and today her musical tastes range from classical tunes to hits by Megan Thee Stallion and Beyonce.
"Music is still an incredibly important part of my life," Floryanzia says. "As a black woman in STEM, it can be difficult at times, and having music that really pumps me up helps. It introduces the frame of mind that I can achieve my goals and conquer my problems. I started dancing in the morning during the pandemic, and I found that it really affects your day — it makes you feel good, gets you ready for whatever might happen."
It started with music
Floryanzia's relationship with music also drew her to chemical engineering. During a middle school engineering camp, Floryanzia attended a lecture by Laura Bottomley, a professor at North Carolina State Univ. (NCSU). Bottomley spoke about how music impacts the brain, and how people with memory loss will forget their children but remember song lyrics — those complexities are what make reverse-engineering the brain so interesting.
"My mother instilled in me a love of music," Floryanzia says. "And my father was an electrical engineer. The lecture made me realize I could combine both of those things." Bottomley's lecture inspired Floryanzia to pursue research on the brain, one of the most complex organs in the human body.
"The brain is so interesting and complicated. We've known about Alzheimer's disease for a century, for example, and so little progress has been made. But there is a lot of promise in the prospect of reverse-engineering the brain," she says.
Above: Floryanzia examines brain scans in this commercial she shot with Chevron Human Energy as part of their "STEM Doers" campaign. Fun fact, this commercial aired during the Super Bowl in 2016!
Undergraduate years
During her undergraduate years at NCSU, Floryanzia was drawn to chemical engineering, which helped her connect the chemical and electrical components of the brain. She initially planned on pursuing biomedical engineering, but was drawn to chemical engineering after speaking with Lisa Bullard, a chemical engineering professor at NCSU, who encouraged her to study the field due to its interdisciplinary nature and potential to create impactful technology.
"Chemical engineering offers a really wide breadth of information and principles," Floryanzia says. "If you want to develop medicine and figure out how to scale up production and improve certain qualities, that's a chemical engineering job."
The importance of mentors
Floryanzia was further inspired to use chemical engineering in neuroscience by research conducted by Elizabeth Nance, a chemical engineer credited with developing the first nanoparticles to penetrate the blood-brain barrier.
In fact, Floryanzia has been strongly influenced by many women in her life. "I am quite fortunate because I have had a host of great mentors that have come before me," Floryanzia says. "They know which fights to fight and how to go about fighting those fights; they have walked the walk. A lot of these barriers have been knocked down and I have a real sense of gratitude."
Blood-brain barrier research
As an interesting parallel, Floryanzia is particularly interested in researching and developing techniques to breach the blood-brain barrier, which is notoriously difficult to do. Thus, drugs targeting the brain are challenging to develop. The scientific community is keen to better understand the brain to better treat it — in breaking down the mechanics of the blood-brain barrier, chemical engineers can develop more effective drugs and treatment for brain diseases, such as Alzheimer's.
Currently, Floryanzia is working on a microfluidic model of the blood-brain barrier, learning about photolithography, plasma cleaning/bonding, use of syringe and microfluidic pumps, and fluorescent imaging.
Image: Floryanzia working in the fume hood doing a quick examination of an aqueous formaldehyde solution she has prepared to fix her brain cells in preparation for staining and imaging.
Following your passion
"I literally wake up every single day loving what I do," she says. "There are some days where I can't even go to sleep because I'm just so excited about the work that I get to do. This is the first time in my life where I don't know exactly what's next. I love what I'm doing with my PhD, and afterwards, I might be happy just continuing that and taking the research in new directions. I don't know yet, but I know that whatever I do, I want it to feel exactly the way that what I'm doing now makes me feel."
This profile originally appeared in the April 2022 issue of CEP. Members have access online to complete issues, including a vast, searchable archive of back-issues found at aiche.org/cep.