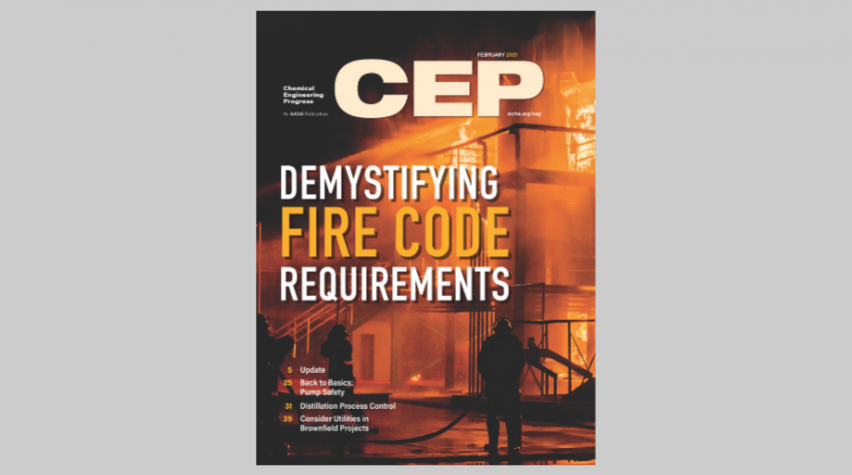 Safety
Demystifying Building Code Occupancy Classification
Hazardous material use and storage inside any structure affects its building and fire code occupancy classification, which dictates its allowable design and layout features.
Back to Basics
Ensure Safe Pump Operation
Various safeguards are available to prevent catastrophic pump failure.
Reactions and Separations
Develop Distillation Controls During Process Design
Address basic process control issues during the engineering design phase to increase system capacity and reduce the frequency of product-quality incidents.
Process Design and Development
Integrating Utilities on Large Brownfield Projects
Before starting construction on a capital project, consider utility demand and integration to prevent late capital cost increase and schedule extensions.
News Update
A More Powerful Serotonin Sensor for Better Antidepressants
Researchers Use Microwave Oven to Convert Coal to Graphite
Using AI to Find New Benefits for Old Drugs
Pfizer-BioNTech and Moderna Lead the COVID-19 Vaccine Race
Decoding Water Purification
Cities of Transparent Solar Cells
Plus
Editorial: Small Steps Toward Progress
Catalyzing Commercialization: Adaptive Plasmas for Health, Food, and Environmental Applications
CEP Digital Highlight: Thinking About Climate
New Products: Environmental, Health, and Safety; Operations and Maintenance; Laboratory Equipment; Materials and Chemicals; Instrumentation; Fluids and Solids Handling
Career Connection: Weather Chaotic Times Through Resilient Leadership
Process Safety Beacon: Static Discharges Are Frequent Ignition Sources
Advanced Manufacturing Progress: Modular, Intensified Options for Conversion of Wastes to Products
Safety Minute: Training Alone Does Not Work
Spotlight on Safety: Fishing for Hazards
Institute news

AIChE Introduces some of Its Recently Elected Fellows
Scholarship Applications are Due for Future of STEM Scholars Initiative
New Outreach Video Celebrates Chemical Engineering Possibilities
Last Call for Institute and Board Award Nominations is Feb. 15
Langer Prize Fellowship Applications Due May 1
AIChE Members now have four options for reading CEP: Print, New Digital Flipbook, CEP App, and the AIChE Website. What is your favorite way to read CEP? Find out here.
Check out CEP's new digital special issue: "Thinking About Climate" at aiche.org/cep/climate-issue