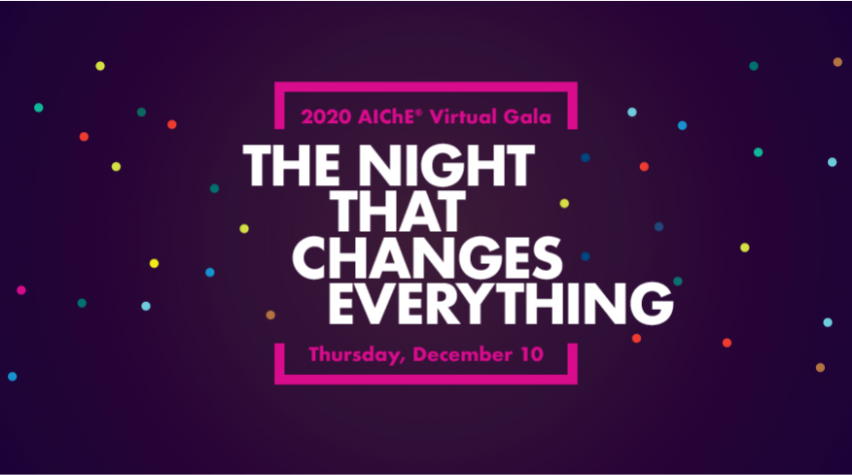 This Thursday, December 10, AIChE encourages all members to gather online to take part in the 2020 AIChE Virtual Gala, which will celebrate the many ways that chemical engineers — and the organizations that employ them — are rising to address the world's most pressing challenges. While we encourage donations from those who are able, all are welcome to join the celebration.
This year's theme recognizes the important mission of the Doing a World of Good campaign, which aims to shape and improve the future of chemical engineering. In particular, the AIChE Foundation will be honoring DuPont and Thermo Fisher for their work to improve quality of life through the safe and responsible practice of chemical engineering. In addition, we'll be honoring retired vice president of global diversity for Chevron and past AIChE Foundation chair Shariq Yosufzai. He will be receiving the 2020 Doing a World of Good Medal of Honor for transforming our workplaces and the profession in the areas of equity, diversity, and inclusion.
STEM's future: classroom to boardroom
This year's gala will formally unveil the Future of STEM Scholars Initiative (FOSSI), in partnership with The American Chemistry Council (ACC), Chemours, and HBCU Week Foundation. FOSSI is a national, industry-wide program which provides scholarships to students pursuing STEM degrees at Historically Black Colleges and Universities (HBCUs) and connects these students to internships, leadership development, and mentoring opportunities at participating companies. Learn more about FOSSI.
During the evening's virtual dessert reception, HBCU Week CEO Ashley Christopher will moderate a Q&A reception entitled "From the Classroom to the Boardroom" looking at the future of STEM education and the FOSSI program. Participants include Daryl Roberts, Chief Operations & Engineering Officer, DuPont; Ozem Onye-Franklin, Chemical Engineering Student '21, Prairie View A&M University; and Chris Jahn, the CEO of the American Chemistry Council, the sponsor of the reception. This is open to all gala attendees.
Why chemical engineering?
In addition, AIChE will debut the new Why Chemical Engineering? video that builds on the success of the What Chemical Engineers Do video in educating the public about our profession and encouraging students to consider pursuing the important and rewarding career of chemical engineering.
Register to attend
Please do join us at this important gathering and celebration of chemical engineering. Your presence will reinforce our important message about chemical engineering's crucial role in the world's future, and all donations will help build an even brighter future for the profession.
Funds raised will underwrite AIChE's Doing a World of Good campaign, which supports programs that bring chemical engineering expertise to bear for the benefit of society. These projects include leadership development and retention programs aimed at women engineers and other underrepresented groups, efforts to improve precollege STEM education, and programs that inspire the next generation of engineers. Funds raised during the 2020 gala will help to support communities that are underrepresented in the profession, with a special focus on nurturing the talents of minority students pursuing careers in engineering and the sciences.
For details about the gala, visit www.aiche.org/gala.