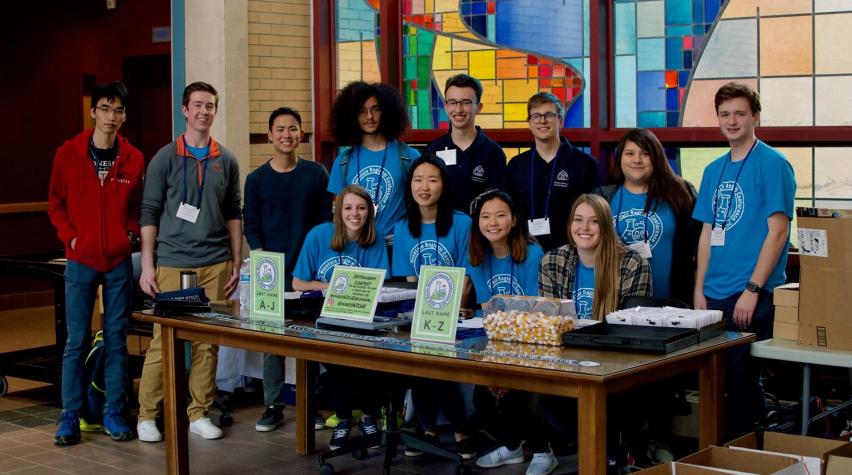 The 2019 Rocky Mountain Student Regional Conference took place on April 5th and April 6th at the Colorado School of Mines in Golden, Colorado.
The conference gave students the opportunity to chat with ChemE peers throughout the region, participate in student competitions organized by AIChE, learn from industry speakers, attend seminars, and much more!
After the conference, we had a chance to interview Regional Conference Chair Emily Bournia about her experience planning and attending the 2019 Rocky Mountain Student Regional Conference.
What was it like to be part of planning a regional meeting?
I really enjoyed having the opportunity to be a part of the team that planned this regional conference. It helped developed my leadership skills and let me interact with people I don't normally get to interact with.
What advice would you give to students attending a regional conference?
I would take advantage of all the events going on throughout the weekend. I know that many of the tours were amazing and all of the workshops had great topics. I would make sure you connect with other students and build your network with the new people around you during the conference.
Was there a special event that really captured your region/chapter at the meeting?
One event that really captured our chapter was the sunrise hike up South Table Mountain. I know the people who went on this climb really enjoyed it, and other groups that couldn't make it in time ended up going hiking at a different time during the conference.
Did you connect with any fellow ChemE students, or get to network with any industry professionals?
I had the opportunity to interact with many professionals and multiple students and advisers throughout the conference. During our social event, I ended up playing casino games with industry representatives from Chevron Phillips Chemical. It was an amazing opportunity to interact with company reps in a relaxed environment.
What was your favorite part of the conference weekend?
My favorite part of the conference weekend was getting to talk to the other schools. I really enjoyed the atmosphere of getting 250 chemical engineering students together for the weekend and getting to talk to them. I also really enjoyed when the announcer for Jeopardy started singing the Finish the Line questions out loud as that made it 10 times more exciting.