Synthetic Biology: Engineering, Evolution & Design (SEED) is a conference that brings together professors and like minds in the world of synthetic biology. It features multiple sessions focusing on advances in science, technology, applications, and related investments in the field of synthetic biology.
Mikhail Shapiro will be speaking at SEED 2019. He will discuss the future of cell-based medicine, including equipping cells with the ability to communicate with the outside world. I spoke with Mikhail about his work and the importance of advances in biomedicine.
In your opinion, what is the most important current trend in synthetic biology?
Personally, I am very excited about the role of engineered cells in biomedicine. The synthetic biology community is making tremendous progress in harnessing what cells already do well, such as the ability of immune cells to kill tumors or the ability of bacteria to colonize the gut, and adding extra capabilities to these cells to turn them into potent diagnostic and therapeutic agents.
What specifically will you be talking about at the conference?
I will be describing our progress on equipping engineered cells with the ability to communicate with the outside world from deep inside the body using ultrasound and magnetic resonance. I think this capability is an important component of the future of cell-based medicine that will allow us to see what cells are doing inside our bodies and tell them what to do. We are approaching this problem by engineering unusual proteins that can do things like scatter sound waves or respond very sharply to heat, allowing us to visualize and control processes such as gene expression.
What message would you like the audience to take away from this year's SEED?
Every time people in my lab attend SEED, they come back inspired about the level of sophistication with which it is possible to design, control, and tune the function of cells, and they bring back useful practical ideas and techniques that we [try to] quickly incorporate into our work. I expect this year's participants in SEED will have the same experience.
How do you envision synthetic biology advancing some of the Grand Challenges in engineering and society?
Engineering better medicines and reverse-engineering the brain are two challenges particularly close to my heart that I think we can address with synthetic biology. Of course, there is also a lot of great work happening related to clean water, the nitrogen cycle, solar energy and other areas.
The 2019 Synthetic Biology: Engineering, Evolution & Design (SEED) conference takes place in New York from June 23-27, 2019. Learn more and register today.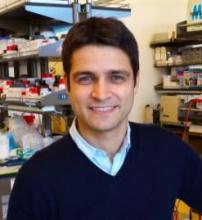 ---
---
---
---
---
---
---
---
---
Mikhail Shapiro
Mikhail Shapiro is a Professor of Chemical Engineering and an Investigator of the Heritage Medical Research Institute at Caltech. He received his PhD in Biological Engineering from MIT and his BSc in Neuroscience from Brown, and conducted post-doctoral research at the University of Chicago and the University of California, Berkeley, where he was a Miller Fellow. The Shapiro Laboratory develops biomolecular technologies allowing cells to be imaged and controlled inside the body using sound waves and magnetic fields, to enable the study of biological function in vivo and the development of cell-based diagnostic and therapeutic agents. More information about the Shapiro Lab can be found online at shapirolab.caltech.edu.