When I think back on my early college years, I remember being bombarded with advice from the internet, my university's career services center, my academic advisors, my professors, and even my parents about everything I should be doing to secure an internship. Getting an internship certainly isn't easy, and to say that I was relieved when I finally landed my first internship would be an understatement. But that feeling of relief dissipated as I quickly realized I had no idea what to expect or what was going to be expected of me when I walked through my employer's doors for the first time.
If you're lucky like me, you'll at least have a chance to review your job description before you start. However, more often than not, a job description won't include an exact rubric showing all the things you need to do to get a job recommendation or a full-time job offer from your employer after your internship. And while there are tons of resources out there to help guide students through the internship search and interview process and connect them to potential employers, there seem to be fewer resources geared towards preparing students to succeed and make a positive impression during their internships. Enter: Cynthia Murphy-Ortega.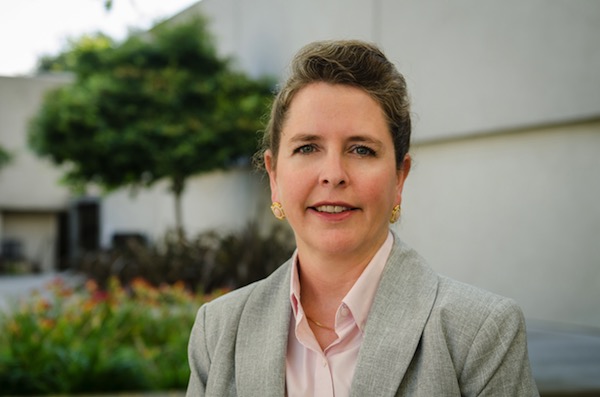 Cynthia Murphy-Ortega is the Manager of University Partnerships & Association Relations at Chevron Corporation, and a longtime advocate of AIChE's Student Programs. Cynthia's story with AIChE began over 30 years ago, when she joined the AIChE Student Chapter on her college campus.
Her experience with internships spans from participating in three internships with large companies during her college years to interviewing and hiring hundreds of interns (and mentoring many lucky ones) over the years.
I asked Cynthia for her take on how ChemE students can make the most of their internships.
Before we dive into how students can make the most of their internships, can you share your thoughts on what makes internship experience so important in the first place?
Cynthia: I believe that internships are a critical piece of the learning process for students. During internships, students are able to apply what they are learning in the classroom to real-world projects as well as gain the experience of working in the business environment. All of these experiences serve as input for them as they formulate their own interests for the future — whether they want to work in industry, attend graduate school, or pursue other options after graduation. Internship experience is truly invaluable and allows the students to "learn by doing."
Cynthia as a Chevron intern in 1988 and as Chevron full-time engineer in the 1990s
What steps can a new intern start taking on day one to make a positive and lasting impression on their supervisor, team members, and other employees?
Cynthia: An internship is quite often the first step in securing a full-time job with the company, so having a successful internship is important. Employers are looking for interns who are eager to learn, work hard, ask questions, listen and learn from others, and demonstrate a can-do attitude. Of course arriving on time for work and dressing professionally from day one also contribute to a first and lasting impression.
First impressions are obviously very important, but for students stumbling upon this blog post towards the halfway point or near the end of their internships, are there any steps they can still take to make a good, lasting impression on their employer?
Cynthia: Continue with the same enthusiasm for your work from the start through to the end of your internship. Come to work each day with a positive attitude, do your best each day, and demonstrate enthusiasm for your work by asking and answering questions. At the end of your internship, conduct proper turnover and documentation for your projects so the company can smoothly continue with the work. Also, make sure to tell your employer that you want to return to work for the company and provide any specifics regarding specific positions and locations so they can more easily match these on their end.
What qualities or behaviors set exemplary interns apart from their peers?
Cynthia: Interns who stand out from their peers are those who engage and work to surpass expectations. Continuously talk with your supervisors and mentors and schedule regular check-ins to discuss the progress you've made on the work you've been given. Ask if it meets the vision for the project. If you come across a challenge, suggest some potential solutions and ask for guidance. Engage in discussions and training with insightful responses and questions and be available to help with any/all types of work assignments. Top interns genuinely have a desire to learn and contribute as much as they can during their internship.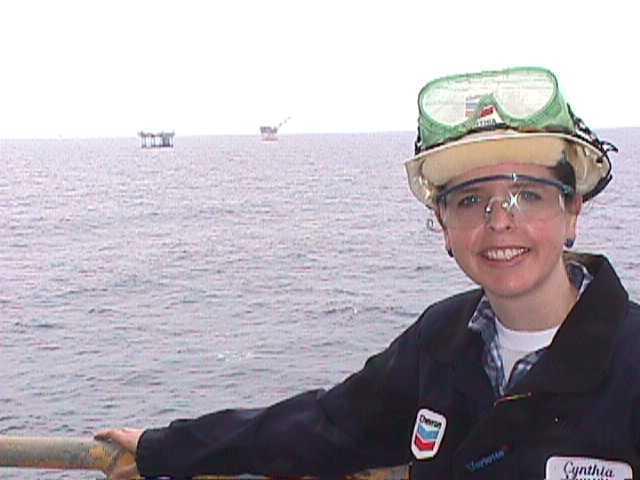 Cynthia pauses for a photo op during an off-shore trip to an oil platform in the Gulf of Mexico in 2002
What can interns do to improve their chances of getting a job recommendation or a full-time job offer from their employer?
Cynthia: Do the work, meet the deliverables, ask questions to learn, be a good team player, and demonstrate a positive attitude. Companies don't expect you to have all the answers or to be an expert, though they do expect you to be willing to learn and put forth your best effort in your work.
Are there any specific experiences students should seek out or any skills students should try to develop or refine during their internships?
Cynthia: Try to learn as much as you can in your internship role from a technical perspective, and also learn about the company culture through informal mentoring and networking. Practice your communication skills. As professionals, we use our influencing skills every day and we do this by communicating effectively — by making sure the right people are in the room or reading your email/document and that they hear a focused and compelling message. Take every opportunity to present to your peers as each experience will contribute to your ability to present an idea or influence a group of people. Also practice your collaboration skills. Rarely is a project completed by one person alone so the ability to collaborate with a variety of people with a diversity of skills, knowledge, and motivation are also important. Try to work with as many people as you can so you can experience and navigate different work styles and personalities while accomplishing your work. Mentors are extremely valuable, so seek them out. Some companies have formal mentoring programs and organize this process for the interns whereas other may not have these programs, so ask about mentoring options. Mentors are able to guide you in so many ways, including within both technical areas as well as interpersonal/business skills to be successful.
Many companies have a formal process to review/evaluate intern performance. What can interns do to prepare for their performance review? At companies where there is no formal review process in place, what can interns do to find out if they're doing a good job?
Cynthia: For any review meeting, be prepared with examples and results of your work. Learn how to distinguish between your actions and accomplishments and how they relate to the team's accomplishments. Ask for specific feedback, not just generic good/bad comments. Incorporate frequent check-ins during the summer so you stay on track and can pivot if needed. At the beginning of the internship, meet with the supervisor to discuss and agree on the performance objectives for the internship. Meet periodically during the internship to review the performance objectives so your supervisor knows the status and you can take any corrective actions that are needed. Finally, meet at the end of the internship to discuss the results. If there is no formal process, be sure to ask your supervisor or mentor for specific feedback during the internship.
Cynthia sharing her knowledge and passion with the next generation of chemical engineering professionals at Chevron
What advice do you have for interns who don't feel that they're being challenged? What advice do you have for those who are struggling with their workload?
Cynthia: Communication is key for an internship or any position. Interns should meet with their supervisor and mentor on a frequent basis so these types of discussions can occur during the internship, not at the end. If you need more work or can take on higher-level/challenging work, first ensure you complete the work that you've been given, and then ask about additional work. Conversely, if you are overloaded, discuss the projects with your supervisor to identify what scope can be successfully accomplished. No company or supervisor wants to set you up for intentional failure. It is better to execute a few projects well than to complete a larger number of projects with lower quality, or with portions incomplete.
How can students continue to make the most of an internship once they've decided that their team/job/company isn't a good fit for them?
Cynthia: All internship experience is valuable and helps provide input on future decisions that you'll make regarding jobs and companies. Finding out that you do not want to do a certain job or work for a certain company is valuable information for you — it helps you narrow down the list of potential jobs and employers. Continue to come to work with a positive attitude, be willing to put your best effort forward every single day, and know at the end of the internship that you did your absolute best. It's just as important to learn what you don't want from your career as it is to learn what you do want.
Do you have any tips for how students can effectively capture their internship experience on their resume and talk about it during interviews?
Cynthia: Explaining your work and accomplishments is an important step after your internship is completed, so taking time to prepare written and oral content is vital. Use common words so the content is clear and understandable. Avoid company-specific jargon and acronyms. Explain the value and results of your work, not just the tasks that were completed. Most interviews these days are behavioral style. Recruiters and hiring managers want to know how you conduct your work, such as how you resolve conflict, lead or collaborate with a team, or solve a technical challenge. Practice before the interview using questions as a way to work on how to highlight experiences in the role. Interviews are about preparation.
Chevron Corporation
Providing Energy for Progress
Chevron is one of the world's leading integrated energy companies with 51,000 employees who operate across the energy spectrum. Our success is driven by operating responsibly, executing with excellence, applying innovative technologies and capturing new opportunities for profitable growth. We are involved in virtually every facet of the energy industry.
We explore for, produce and transport crude oil and natural gas; refine, market and distribute transportation fuels and lubricants; manufacture and sell petrochemical products; generate power and produce geothermal energy; invest in profitable renewable energy and energy efficiency solutions; and develop the energy resources of the future, including researching advanced biofuels.
For more information visit www.chevron.com.
Disclosure: This post is sponsored by Chevron Corporation and reflects its views, opinions, and insights.