Ask scientists to name the the world's dirtiest fuel and lignite coal wins hands-down.
But Kawasaki Heavy Industries (KHI) has developed a production process that cleans up lignite so much that the industrial giant plans to build a 4,000-mile, green-hydrogen supply chain to gasify lignite coal in Australia (while sequestering the CO2), and then shipping liquified hydrogen back to Japan. Once regasified, it could fuel everything from cars to power plants, all emission-free (watch a corporate promo above).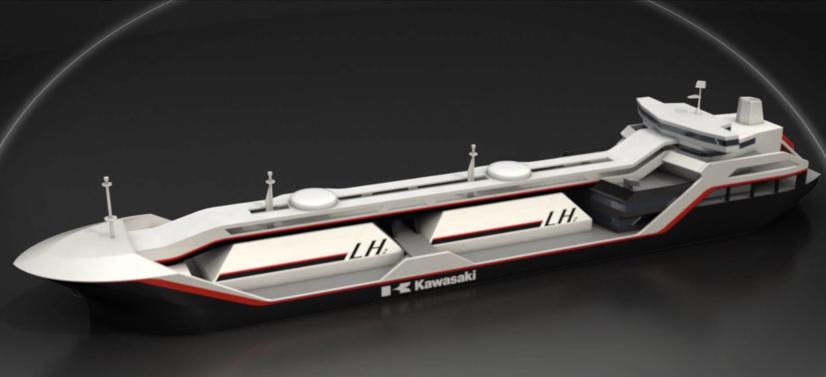 ---
Now KHI must quickly meld together a network of its proprietary technologies — like the unbuilt LH2 carrier above — to meet a looming deadline: supplying the chilled gas-to-fuel-cell-powered buses and taxi's in time for the 2020 Tokyo Summer Olympics. With just three years to get everything right, Kawasaki's reputation is on the line.
To put the audacity of KHI's project in perspective, the Southern Company's coal gasification power plant in Kemper County, Mississippi, which was also designed to sequester CO2 from lignite, is years behind schedule and billions over budget. The cause of the troubled project's latest delay was announced last week: lingering "issues with ash removal in one of the gasifiers."
Ending energy scarcity
Kawasaki's ambitious plan kicked in to high gear when Japan's Prime Minister Shinzo Abe, trying to boost the country's anemic economic growth, made a big bet on hydrogen to jumpstart a new industry providing what he calls "the energy of the future."
He thinks hydrogen offers Japan a big advantage: allowing the country to further diversify the country's energy sources (joined by solar and wind), while cutting CO2 emissions enough to stay within the Paris accord's limits.
Essentially, he wants to end Japan's forty-year struggle with energy scarcity, a trauma that flared up during 1970s OPEC oil embargo and overwhelmed the country when its fleet of nuclear reactors was shut down after Fukushima. Ever since, utilities have had to buy expensive LNG import contracts, ballooning the trade deficit. To stop this disaster, Abe strongly pushed the move to hydrogen.
"A hydrogen society is about to begin in Japan," Abe reaffirmed to parliament last January. "Hydrogen is an ace in the hole for energy security."
To prime demand for hydrogen, the Ministry of Economy, Trade and Industry (METI) is setting a target of putting 40,000 hydrogen fuel-cell vehicles on the roads by 2020, along with 160 fueling stations, up from the 80 now.
METI is also focusing on the 2020 Games, a branding showcase where Japan can market its newest technologies to the world. Enthusiastic, Tokyo Governor Yoichi Masuzoe vividly remembers how "the 1964 Tokyo Olympics created the nation's high-speed train system." He's confident that 2020 "will leave a hydrogen society as its legacy."
Masuzoe is spending 45.2 billion yen on fuel-cell vehicle subsidies and hydrogen stations leading up to the games. He also sees 100 fuel-cell-powered buses carrying tourists to the various Olympic venues. As a matter of fact, Toyota just delivered Tokyo's first two fuel cell buses (read the press release).
With all of this stimulus, Kawasaki predicts that its hydrogen supply chain will import 660,000 tons hydrogen a year by 2030, which will take care of 1.5% of Japan's power needs.
The world's cheapest coal
KHI will scale up its new coal gasifier in the Latrobe Valley, Australia, where lignite is so cheap it will come close to offsetting liquifaction and transport costs. That's because it's made up of 50 to 60% water, which retards its energy density, and, by spontaneously combusting after drying, exports are completely eliminated. The vast 200-year supply had become a stranded asset after the local power plant shut down.
---
---
---
"Our hydrogen production is one of the world's most economical," Motohiko Nishimura, deputy general manager at Kawasaki Heavy's Hydrogen Project Development Center, told Nikkei Asian Review.
He believes that if the gasifier and its extended supply chain can produce enough hydrogen to power the equivalent of 3 million fuel-cell cars, costs will drop further in half.
"The hydrogen will be free of carbon dioxide emissions," assured Nishimura. Kawasaki choose the Latrobe Valley not only because of its huge lignite reserves but because the federal and state governments had already successfully sequestered CO2 in an old undersea gas field.
New liquifaction technology
To liquify the hydrogen before it's voyage to Japan, it will be cooled to −253°C in technology Kawasaki demonstrated in 2014. While this first plant produced only 5 tons of liquefied hydrogen a day, scaling up the the new 20 tons a day liquifaction plant could be a stumbling block that throws off the whole timeline.
Going back to its roots
Building a prototype hydrogen LH2 carrier will be an even a bigger challenge. Even though Kawasaki has built 30 LNG carriers at its Kobe shipyard and plans to transfer technology like double walled tanks, piping, valves and loading systems, chilling hydrogen close to absolute zero will create a steep learning curve.
Offloaded in Japan
Assuming the best, when the LH2 arrives on time in Kobe, Japan, it will be offloaded at a new $84 million hydrogen import hub that Kawasaki is building on city land near the Kobe Airport.
To handle tens of millions of cubic meters of hydrogen, Kawasaki will install its proprietary offloading technology and storage tanks, and make deliveries in cryogenic tanker trucks all developed for Japan's space program.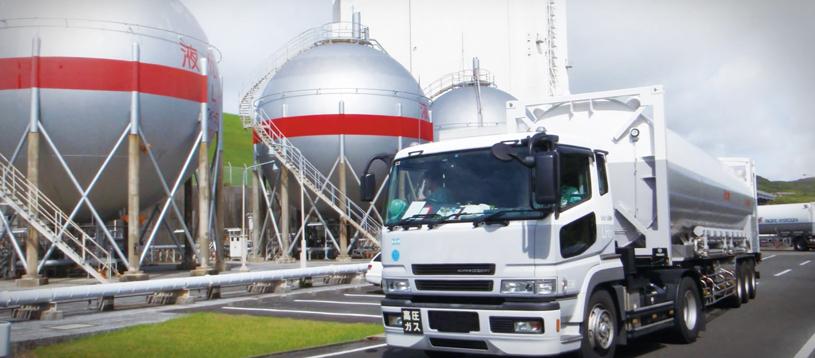 The biggest prize
Even though the first shipments of green-hydrogen will power transportation and home fuel cells, Kawasaki made replacing natural gas power generation the big prize.
KHI is already working with Obayashi, a large construction firm, to install its first commercial 1000KW hydrogen-powered turbine in a local Kobe business district.
Construction began this year and the power plant should come online in 2018.
Partnering with Kansai Electric Power and the city of Kobe, the power plant will provide electricity to hotels, an International Conference Center and offices housing 10,000 workers. Heat from power generation will help the hotels and other buildings provide hot water too.
At the beginning, Kawasaki's hydrogen will provide half the energy, while Kansai Electric will provide the rest, and, like all new technologies, government subsidies will keep prices around current rates.
Kawasaki expects growing pains. Initially, the power plant is restricted to a blend of 80% natural gas and 20% hydrogen. Nevertheless, it will still emit 20% less carbon than traditioal gas turbines, and engineers expect a total hydrogen operation in the future.
Global demand
Assesing the future, Shohei Inatsu, who designed the LH2, told LNGWorld, "Our estimates suggest that if 20 percent of Japan's electricity generation shifted to producing power from hydrogen in 2050, it would need around 80 large hydrogen (LH2) carriers. We also expect demand to grow for vessels that use hydrogen as fuel — and for hydrogen bunker-supply vessels to deliver the fuel."
Will hydrogen turbines supplant natural gas in the future?