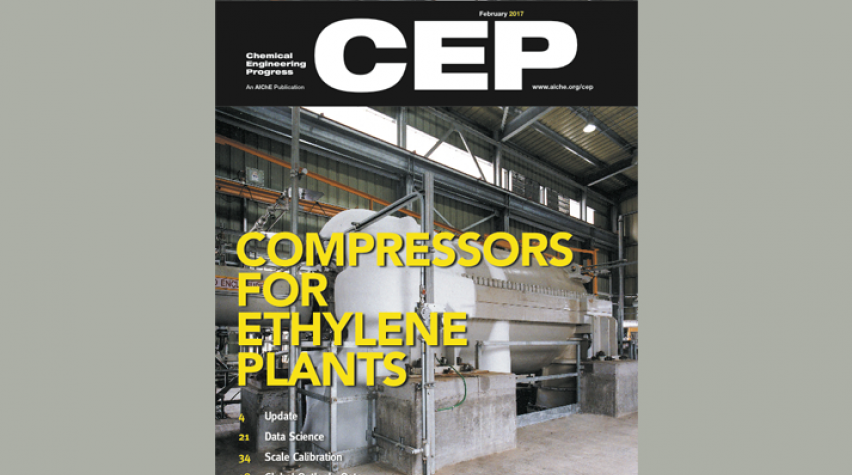 BACK TO BASICS
Centrifugal Compressors in Ethylene Plants
Centrifugal compressors are used in ethylene plants for cracked-gas compression and refrigeration services. This article describes the basic design and operation of these compressors.
ON THE HORIZON
Data Science for Chemical Engineers
Chemical engineers need data science tools to take advantage of the increasing amount of data available to them. Data storage, analysis, and visualization will play more important roles in the discipline.
INSTRUMENTATION
Ensure Product Quality through Risk-Based Scale Calibration
Many manufacturing standards are not explicit about scale calibration and testing requirements. This article dispels some common myths about scale performance and explains how calibration and testing based on risk assessment support compliance and quality.
GLOBAL OUTLOOK
Qatar's Chemical Industry: Monetizing Natural Gas
With one of the world's largest natural gas reserves and a vision to become the "Gas Capital of the World," Qatar is monetizing its wealth of resources through the production of value-added chemicals and energy products.
Update
Self-Assembling Nanomaterials Get Complicated
New Transistor Is Clear and Flexible
Decorated Spider Silk Slowly Releases Antibiotics
Implanting Tiny Robots with Moving Parts
Microfluidic Chip Models the Brain
Air Emissions Decrease by More than Half Since 2005
Plus
AIChE Journal Highlight: Creating Computational Models for Biopharmaceutical Production
Catalyzing Commercialization: A Closed-Loop Process for Li-Ion Battery Recycling
Career Corner: Dealing with Difficult Coworkers
INTERPHEX Expo Preview
Product Focus: Materials and Chemicals; Environmental Health and Safety; Laboratory Equipment; Operations and Maintenance
Spotlight on Safety: Bypassing a Safety System Can Have Serious Consequences
Process Safety Beacon: Do Not Mix Incompatible Materials in Storage Tanks
Technical Entity Trends: A Cure May Stem from Your Cells
Profile: Tackling the Challenges of Regulating Biotechnology
Books
Meeting Preview: Spring Meeting and Global Congress on Process Safety
Preliminary Program: 2017 Spring Meeting and 13th Global Congress on Process Safety
Calendars
Institute News:

AIChE Launches Regenerative Engineering Society
AIChE Constitution Amendments Approved by Membership
Institute and Board Award Nominations Due February 15
Your AIChE Membership: Technical Divisions, Forums, and Technological Communities
The February 2017 issue of CEP is now available online. AIChE members receive access to CEP, including a searchable archive of issues dating back to 2001, online at https://www.aiche.org/cep.