Without the existence of carbon pricing, any company bold enough to develop carbon sequestration technology has to find a creative business model as a workaround. Unfortunately, at this point, enhanced oil recovery is the preferred way.
In Vanderbilt, Texas, near the Gulf of Mexico, there was an old oil field, called West Ranch, which had produced about 400 million barrels over a long productive life. However, pumping had dried to a trickle. Fortunately, help — in the form of an unusual partner selling enhanced oil recovery — was just 80 miles away.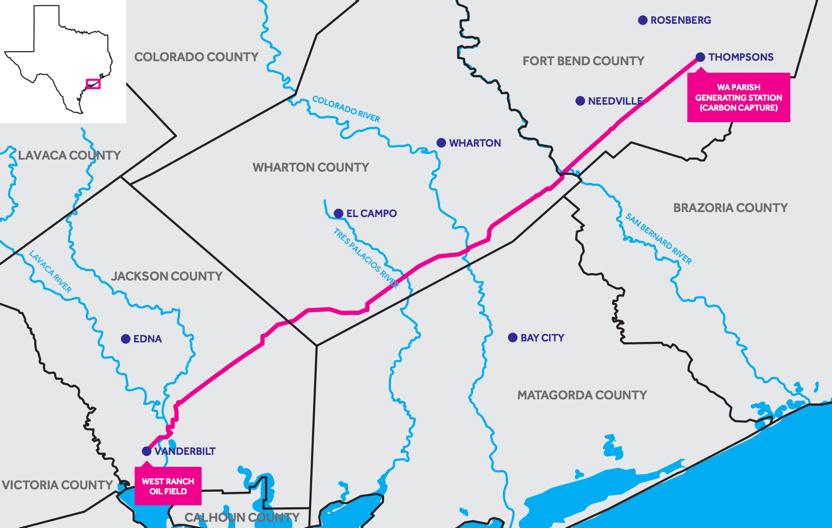 ---
Surrounded by lush Texas lowlands 80 miles away, the 3,700 MW W.A. Parish power plant has become the world's premier test bed for coal-fired power decarbonization. Because its four old coal-fired generators and six natural-gas fired units emit more CO2 than any other power plant in the country, it's obvious why NRG Energy spent $1 billion retrofitting them into the largest post-combustion carbon capture project in the world. Paying for the expensive project, now called Petra Nova, forced NRG to get into the oil business.
---
Creative financing
Even though high costs limited NRG's retrofit to one 240 MW coal-fueled unit, Petra Nova generates more than double the power of SaskPower's Boundary Dam CCS project, while capturing 60 percent more CO2.
Boundary Dam was the first coal-fired power plant to use post-combustion capture, when it went online in Saskatchewan, Canada, in October 2014. Its 110-MW retrofit captures 1 million metric tons of CO2 annually.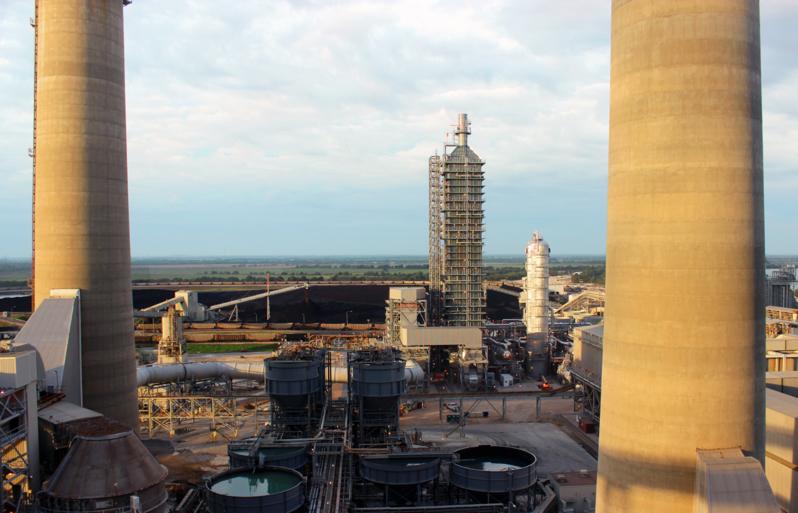 ---
To make the economics work at SaskPower, captured CO2 is compressed and piped 41 miles to oil fields in southern Saskatchewan and used in enhanced oil recovery (EOR).
Also, at $1.467 billion, the retrofit required considerable government largess, which paid one-sixth of the project's cost. The province's captive rate payers are paying for the rest.
NRG's Petra Nova also benefited from government grants, netting a $190 million Clean Coal grant from the DOE. At the same time, NRG and Japanese partner JX Nippon both contributed $300 million. "All new tech needs a little push," NRG CEO Mauricio Gutierrez told the Paulson Institute.
JX Nippon's involvement opened the door to $250 million in loans from two Japanese export credit agencies, the Japan Bank for International Cooperation (JBIC) and Nippon Export and Investment Insurance (NEXI).
The goal of JBIC and NEXI is to advance the competitiveness of Japanese industry overseas, and in the case of JBIC, promote overseas businesses that help preserve the environment and confront global warming.
Both agencies, keen to help sell Mitsubishi Heavy Industry's (MHI) new carbon capture technology, completed the funding package.
In the oil business
As an independent power producer bidding into the Texas deregulated market, NRG couldn't rely on captive rate payers to make the numbers work, so it got creative.
NRG decided that instead of just capturing the CO2 and selling it to a third party, the company would build and own the CO2 delivery pipeline. Then it purchased a 50 percent stake in the West Ranch oil field owned by Texas-based Hilcorp.
"All the economics of the Petra Nova project are based on the oil field production," explained NRG. Capturing CO2 comes at a substantial cost, and in the absence of substantial carbon pricing, the only way to make the project work was to own the oil captured by the CO2.
Injecting CO2 will increase oil production and ultimately help recover 60 million additional barrels of oil.
"We've drilled nearly 100 new wells and implemented a robust CO2 monitoring program," Jeffery D. Hildebrand, Chairman and CEO of Hilcorp Energy Company, said in the press release. "We expect to see an increase in oil production in the near future."
Over the next few years, oil production is estimated to increase from 300 barrels a day to 15,000 barrels.
Evolutionary, not revolutionary
Now that Petra Nova is up and running, it's important to stress that the project was finished on schedule and on budget, which is unusual for a new CCS technology.
How did NRG avoid typical startup pitfalls? It chose to be evolutionary and not revolutionary. They partnered with Mitsubishi Heavy Industries (MHI) to deploy its proven post combustion KM CDR Process and KS-1 Solvent, which had already been installed in 11 natural gas and oil combustion exhaust plants.
---
The KM CDR process captures 4,776 metric tons of CO2 a day, ten-times larger than MHI's previous demonstration at Southern Company's Berry coal plant launched in June 2011.
Even before that, MHI conducted extensive research and development. In 2006, MHI launched a demonstration test at a scale of 10 tpd. After success at Alabama Power at a scale of 500 tpd, NRG and MHI made the leap to full-scale commercialization.
At W.A. Parish, in the run up to full operation, Petra Nova captured its first CO2 on September 19, 2016 and has delivered more than 100,000 tons of captured CO2 for enhanced oil recovery at the West Ranch oil field through its 80-mile pipeline.
Crews completed final testing on December 29, 2016, after the system met all performance milestones, which included capturing more than 90% of flue gas CO2. This will allow the unit to capture more than 5,000 tons of CO2 per day.
The economics of CCS
Ultimately, since both Boundary Dam and Petra Nova are successful retrofits, they have important lessons for global coal power. It demonstrates technology that is directly applicable to existing power plants," Andrew Hlasko, a senior project manager at DOE, told Scientific American.
Since the beginning of the 21st century, coal has fueled nearly half of the growth in global energy supplies. As a result, more than one-fifth of coal plants worldwide are now less than five years old and half are younger than twenty. China built roughly 530,000 MW of coal-fired plants in the last decade, which is more generating capacity than all coal plants in the United States.
So while the US and Europe will probably retire their older fleets of coal-fired power plants by mid-century, it is unlikely that China and other developing economies will abandon their recently built, state-of-the-art coal plants.
Without the ability to eventually capture and safely store CO2, emissions from those coal plants in China and the rest of southeastern Asia, mitigating climate change might become impossible.
Will carbon pricing ever make CCS viable?
Images: NRG